2012 NFL Predictions Premium
Season Team Previews and Over/Under Picks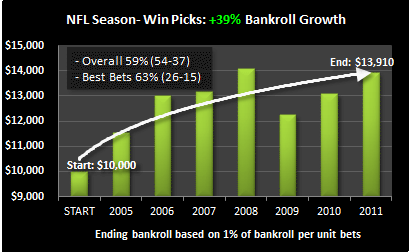 I've won 63% (26-15) on my Best Bets season win totals and 59% overall for +39% ROI on these picks over the past seven years. I've only had one losing season out of seven. For more information on past performance, go here. For the 2012 season, I have 25 picks below including 11 Best Bets.
Atlanta Falcons UNDER 9.5 wins (-155) - 2 units
Pythagorean analysis: 9 win team last season
+8 turnovers last year (after +14 the year before)
Very healthy last year (only 29 starts lost to injury)
Tough division and moving to new offense
Baltimore Ravens UNDER 9.5 wins (-105) - 2 units
Very tough schedule vs. very easy last season
Last season did not dominate (less than +50 yards per game net)
Only 23 starts lost to injury last year (unusually healthy)
Defense aging and could be without Terrell Suggs (at least hobbled)
Buffalo Bills OVER 8 wins (-135) - 2 units
Healthy Fred Jackson and Ryan Fitzpatrick started 5-2 last season
Unheard of 70 starts lost to injury last season won't repeat this year
Easy schedule this year vs. difficult one last year
Team improved talent measurably
Chicago Bears UNDER 9.5 wins (-135) - 2 units
Win total is a full 1.5 higher than last year's performance
Jay Cutler's doesn't win games (11-35 in college, sub-.500 record in NFL)
Tough division with two games each vs. Packers and Lions
Cleveland Browns OVER 5.5 wins (+110) - 2 units
Getting to 6 wins is low hurdle
Division losers from prior year go OVER at very high rate
Defense was good last season (ranked #10)
Offense will improve with Richardson, Weeden and Gordon
Detroit Lions UNDER 9 wins (-130) - 2 units
Team discipline a real concern
+11 in net turnovers last season (4th highest in the league)
Had to come back by 13+ four times last season to get wins
Unusually healthy last season (fourth fewest starts lost to injury)
This season will have 8 games vs. playoff-caliber teams
Kansas City Chiefs OVER 8 wins (+105) - 2 units
Played 7 games without Matt Cassel and still nearly won the division
Easy schedule this year
Division losers from prior year go OVER at very high rate
New coach typically = more wins
New York Giants UNDER 9 wins (-120) - 2 units
Very tough schedule with everyone gunning for the Super Bowl champs
Barely out-gained opponents on average last season
A team that gets hot in the postseason but mediocre in regular season
New York Jets OVER 8.5 wins (-115) - 2 units
Can shut down opposing passing games - huge in today's NFL
Tim Tebow will add some touchdowns to anemic offense
Pendulum (everyone on them early last year, now off)
Oakland Raiders OVER 7 wins (-120) - 2 units
New coach typically = more wins which would mean 9+ for this team
Healthy Darren McFadden and fully versed Carson Palmer improve offense
Defense benefits from new coach Dennis Allen's strong pedigree
Philadelphia Eagles UNDER 10 wins (-110) - 2 units
Hype has pushed total higher than it should be
Michael Vick has big name and one big year - overall not great
Vick is fragile
Team won 8 last year and getting to 11 is going to be very hard
San Diego Chargers UNDER 9 wins (-145) - 2 units
Norv Turner good for a few losses snatched from the jaws of victory
No team worse on third-down defense last season
St. Louis Rams OVER 6 wins (-120) - 2 units
New coach typically = more wins and Jeff Fisher is one of the best
Division losers from prior year go OVER at very high rate
Expect Sam Bradford to improve measurably
Tennessee Titans UNDER 7.5 wins (-125) - 2 units
Vegas isn't dumb. Last year 9 wins, this year 7.5. Not enough adjustment.
They were actually out-gained last season
QB big question mark: Hasselbeck a year older & Locker inexperienced
Didn't improve in any measurable way in the offseason
Difficult schedule: Texans, Pats, Steelers, Lions, Bears, Jets, Packers
Best Bets:
Green Bay Packers UNDER 11.5 wins (-105) - 3 units
The Packers were a dominant 15-win team last year but they were exposed as overrated late in the season. A week 15 loss to a weak Kansas City team ended their run at 19-0 and playoffs loss to the Giants ended their season. Don't get me wrong. This is an elite team. But, they really should have won about 12 games last season based on Pythagorean wins analysis (expected wins based on offensive and defensive performance). The Packers' defense was really bad last season (ranked dead last in the NFL). Teams that perform as well as the Packers did last season (13+ wins and ranked in the top four in scoring differential) typically fall off significantly in wins the following year. Given that this team was +24 in turnovers (2nd best in the NFL) last season, there is reason to believe a reversion to the mean will occur in 2012. This team is still loaded with talent so expect another very good year, but maybe not as good as some people expect.
Houston Texans UNDER 10.5 wins (-135)) - 3 units
Houston's defense took a huge step forward last season, going from one of the worst in the league to one of the best thanks to Wade Phillips. As a result, they won a franchise record 10 games. The offense of course remained potent and as a result, this team actually should have won 11 games based on their scoring differential over the course of the year. That, combined with an easy 2012 schedule has the public high on this team for 2012. But, there's reason for concern. They lost Mario Williams and DeMeco Ryans from the defense and this season they'll have two new starters on the right side of the offensive line. And, Matt Shaub has shown he is injury prone. They were fortunate from a turnover perspective last season (+7 which was 2nd best in AFC). And, this year out-of-division they must play some very stiff competition: Green Bay, Baltimore, Denver, Jets, Chicago, Detroit and New England. Finally, teams that jump to double-digit wins after a poor prior season tend to revert again the third year.
Miami Dolphins OVER 7 wins (-105) - 3 units
Based on their points for and points against, the Dolphins should have won 8.5 games last year (Pythagorean wins) so this team is better than most people think. In fact, the Fins went 6-3 in their final nine games last season. They have a new coach this season which typically translates into an increase in wins. Last season Miami faced a top 1/3 toughest schedule and this year, they get a bottom 3rd hardest schedule. Their QB and receiving corp is very suspect, but I still feel they can reach an 8-8 schedule this season.
Minnesota Vikings OVER 6 wins (-120) - 3 units
Minnesota has fallen hard since achieving 12 wins and appearing in the NFC Championship game three seasons ago. Last season they posted just three wins, but they weren't that bad. Based on Pythagorean analysis, they were more like a 5-win team. Their average net yards per game last season was only -29, further indicating the Vikes are better than advertised. They suffered a 2-10 record in games decided by 7 points or less last season which is rare (unlucky) and that is not likely to repeat in 2012. Last season the Vikings were fighting an uphill battle with serious injuries to their top offensive player (Adrian Peterson) and had a rookie quarterback taking snaps. Division losers from the prior year go OVER their season-win total at a very high rate. This season if their luck improves, their record should improve drastically, despite playing in a tough division.
New England Patriots UNDER 12 wins (-130) - 3 units
The Patriots have won 10+ games now nine straight years. Five of the last nine seasons they would have eclipsed this high total of 12 wins. They won 13 games last season and made it to the Super Bowl. So of course, expectations are again high this season. But 13+ wins? That's a tall order. Let's not forget that this teaqm was the recipient of some very good luck last season, ending +17 in turnovers (highest in the AFC). Let's also not forget that New England's pass defense was second worst last season and in a pass-happy league, that's cause for concern. If that doesn't improve, getting to 13 wins will be very hard. And, repeating that many wins is nearly unheard of. The Pats will be great again, but take them to go under their season win total.
New Orleans Saints UNDER 10 wins (-140) - 3 units
The Saints won 13 games last season but the expectations aren't as high for 2012. They face a top-ten hardest schedule this year. NFL teams that end the prior season with 13+ wins and rank near the top of the league in net point differential inevitably drop in the win column the next season as a reversion to the mean usually takes place. Good luck normally plays a role in such a great season and that is the case with the Saints, the third-healthiest team in the league last year. In addition, this team has lost their head coach (one of the best in the NFL) and defensive coordinator from last year. Even the interim head coach (Joe Vitt) must sit out the first six games of the season. The distractions around Bounty-Gate won't help things either.
Tampa Bay Buccaneers OVER 6 wins (-130) - 3 units
The Bucs finished last season with only four wins and they weren't even that good. They ranked dead last in points allowed last season (30.9) and their offense was ranked 27th in points scored. The good news for Tampa Bay is that things should improve this season. They face a softer schedule this season vs. last and the team should benefit from a new coach as NFL teams with new coaches typically win 2-3 more games. Greg Schiano benefits immediately from two first-round draft picks and the addition of Vincent Jackson at wide out. This team suffered some of the worst luck in the league last season as they posted a league-worst -16 net turnovers. Given that turnovers tend to regress towards the mean year over-year, there is reason to believe this team will win several more games in 2012.
Washington Redskins OVER 6.5 wins (+105) - 3 units
The Redskins were closer to a 6-win team than the 5-win team we saw last season, based on Pythagorean analysis. So not a lot of improvement is needed to get to 7 or more wins this year. The 6-win assessment comes despite a -14 net turnover ratio and 65 starts lost to injury last season, neither of which is likely to repeat. Division losers from the prior year go OVER at very high rate. The old conventional wisdom was that young quarterbacks couldn't win in the NFL. That's no longer true (See Cam Newton, Andy Dalton) so expect RG3 to have an immediate positive impact.
Indianapolis Colts OVER 5 wins (-125) - 4 units
Things couldn't have gone worse for the Colts in 2011. They were unlucky on the injury front (2nd most starts lost to injury) and on the turnovers front (-12 net turnovers). When Peyton Manning went down, their coach didn't have an answer at all. The Colts weren't as bad as their 2-14 record would indicate last season and with a new coach on board and the top QB prospect in years taking snaps, I expect a marked improvement for this team in 2012. Teams that were truly awful the prior season (3 or fewer wins and ranked near the bottom of the league in scoring differential) tend to improve a lot the next year (by an average of 4 wins). Teams that finished last in their division fly over their season wins total the next year at a very high rate. Take the Colts to get to 6+ wins in 2012.
Jacksonville Jaguars OVER 5.5 wins (+100) - 4 units
The Jags were a poor team in 2011, winning just five games. The odds-makers expect a repeat performance in 2012. I think they'll do better. Jack Del Rio is out and Mike Mularkey is in. NFL teams with new head coaches average 2-3 extra wins per season. Their rookie QB now has some experience and is backed up by a capable Chad Henne. The Jags defense should remain solid (ranked #6 in the league last season). Their 2012 schedule is soft. If their luck on the injury front improves (10 most starts lost to injury last year and 31 players on IR at the end of the season), the Jags should be able to improve on their win total this season.
San Francisco 49ers UNDER 10 wins (-135) - 4 units
The 49ers had an amazing 2011 campaign under first year head coach Jim Harbaugh. He came in brash and backed things up, delivering 13 wins. But, I expect a big letdown this season. The Niners were +28 in turnovers last season (highest in the NFL). With that kind of luck, it's hard not to have a great season. I am not yet sold on Alex Smith as a great NFL quarterback. He's certainly improving and thriving under Harbaugh, but is he an elite quarterback? No. And you are going to be hard-pressed to get to 11 wins in the NFL without one. Teams that dominated last year (13+ wins and top 4 in scoring differential) drop on average 5 wins the next season. The Niners posted a 7-2 record in close games in 2011 and that kind of performance can't be counted on again.
Good luck!