WNBA Picks

If you are a fan of basketball, then I'm going to let you in on a little secret. The Women's National Basketball Association (WNBA) is a terrific league, and it's one that you need to start paying attention to. Basketball is the second most popular sport to bet on in the United States. But surprisingly, the WNBA does not draw that much betting attention. Getting WNBA free picks can be hard to find, especially since some sportsbooks don't even take bets on the action.
I'm here to change that because I know that WNBA betting can be just as profitable as betting on the NBA. The WNBA season is not nearly as long, but there are more chances on each day that the league is in action. This makes it a perfect opportunity to use WNBA expert picks to cash in. My aim here is to explain the process of betting on the WNBA and why it is a smart and worthwhile thing to do.
How Do WNBA Picks Work?
WNBA spreads work the same way as NBA spreads, and so you don't really even need to learn about how to bet on this sport to get underway. And with my knowledge, you won't need to do any research because I will take care of all of that for you.
Though I'm not saying that you need to become the biggest WNBA fan around to win some money, you should start to pay attention to the game. When you do tune in, look out for players such as Maya Moore, Brittney Grinner, and Sue Bird. These women are talented professional athletes who compete in the sport.
The rules are very similar to the NBA, and you might find that you actually enjoy this type of basketball as well. A few differences lie within the length of each quarter, which is 2 minutes less than the NBA, as well as a smaller team roster and higher starting age. These details are things you'll hardly notice when fixated on your free WNBA picks.
WNBA Lines
If you are not betting on the WNBA, you should be! The WNBA doesn't get the same exposure and media coverage as other professional sports like NBA. Get my Guaranteed NBA Picks - I share free picks all season through the playoffs and championship and offer paid guaranteed packages you can buy here. You'll see I have had great results there too. But, I am often asked, "why do you even bother making WNBA picks when no one even watches the games?"
My reply is always the same: that's exactly why I do it! You see, it is the job of the sportsbooks to get the same amount of bets on either side of the game. No matter the sport or the bet, the sportsbooks want half of the bettors to play UNDER, and the other half to play the OVER for example. To accomplish this goal, the sportsbooks will move the line a little bit in either direction to try and get the same amount of bets on both sides.
Well, what does that have to do with expert WNBA basketball picks?
Everything! In order to get more players to bet on WNBA games, the oddsmakers will "shade" the lines to make betting the games more appealing. This results in "soft" lines that can be exploited to turn huge profits. I've been doing it successfully with my premium and free WNBA picks for years.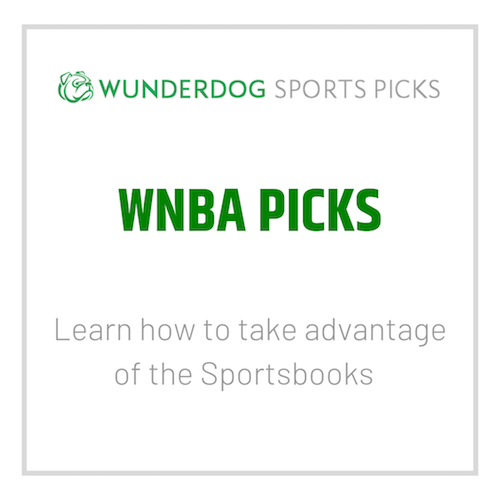 Free WNBA Picks
I am able to take full advantage of the fact that WNBA games get overlooked by the sports betting public and don't get the full attention of the sportsbooks. This makes profitable situations easy to spot - if you know what you're looking for. Now let's be honest for a second. I'm not saying that I hunker down on the couch on Saturday night to catch every WNBA game.
I probably couldn't tell you who the MVP was last season, but what I can tell you is that I know how to read the lines and know WNBA situations well enough to make sound educated decisions to predict the winners of WNBA games. I attack the WNBA lines with the same scrutiny and vigor that I do in any other sport. Learn more about my style as an expert sports handicapper here. I won't skimp out just because the sportsbooks and oddsmakers do.
Another great reason to bet on WNBA games is the timing of the season itself. Once March Madness wraps up, the NBA and NHL Finals are in the books, there is only MLB to tide us over to the next NFL season. So unless you enjoy the summer doldrums, betting the WNBA can be a great way to occupy your time - not to mention the fact that you can build your bankroll for the NFL season in the fall.
My WNBA free picks are a great way to get started when betting on this league, and I have had an incredible amount of success with them. Don't believe me; check out the success rate posted on my site.
WNBA Picks and Parlays
WNBA picks and parlays are very similar to other sports, but you might not see as many betting types offered by the sportsbooks. WNBA spreads will, of course, be listed, but there other options that you can include in your picks and parlays for the WNBA.
Each morning I will take a close look at the slate of games scheduled around the WNBA and will build a list of picks for you to use. You don't have to use all of my WNBA picks, but you would be foolish not to follow my lead.
You don't have to simply use my picks to bet on the WNBA, as you can include some of these WNBA predictions in your multi-sport parlay as well. The WNBA might not be a popular option with television viewers, but it is a great opportunity to make some money.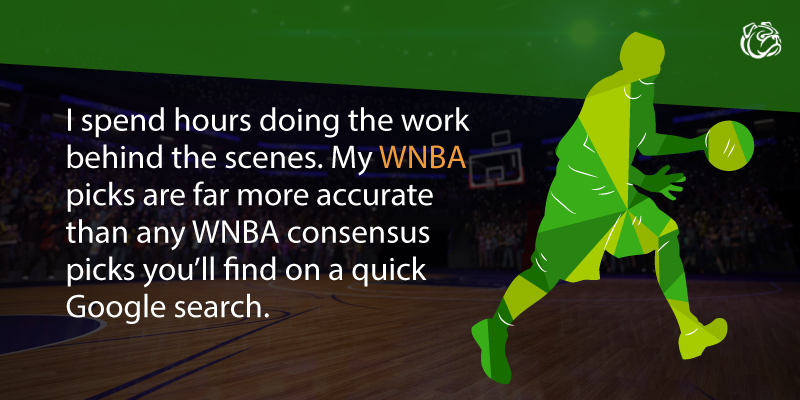 Expert WNBA Picks
How do I make my WNBA Picks? We start with the lack of public interest in playing on the WNBA. Most sports bettors make the mistake of focusing on other sports and that is a huge benefit to WNBA bettors. It allows for an edge in sports wagering. I know that the general public is keeping their betting interests on the NBA and other sports and that drives up the value of its betting lines. I know how to utilize these higher-value lines to win and only release WNBA picks that give my subscribers the best chance of winning. More value means a higher return on your investment. Isn't that what we're all really after anyway?
So what's not to like about the WNBA? There is great basketball action and most of all there is tremendous value and money to be made. Get on board with Wunderdog Sports and watch your winning percentage soar. Start now with well-written, detailed write-ups and free picks delivered each day directly to your email.
Bettors Shouldn't Ignore the WNBA - WNBA Betting Picks = Easy Profit Today!
Let's explore an example:
WNBA season completed October 2017. The Minnesota Lynx defeated the Los Angeles Sparks by a score of 85-76. It was their 4th WNBA title in seven years and avenged the loss in the Finals last season to the Sparks.
Actually, the series featured five of the league's 10 All-Star selections and was a great series for basketball fans to watch. For the Sparks, All-Star players included Candace Parker, Nneka Ogwumike, and Chelsea Gray while Minnesota had Maya Moore and center Sylvia Fowles. In addition, five U.S. Olympians were represented (Fowles, Moore, Parker, Lynx shooting guard Seimone Augustus and point guard Lindsay Whalen).
Both teams battled on a pretty equal basis, not only during the Finals but also during the regular season, so it made sense that the championship would come down to a Game 5. Lynx won behind 15 points and 20 rebounds from Lynx center Sylvia Fowles. It also healed some of the pain of last season when Ogwumike hit a putback with 3.1 seconds left to give the Sparks the 2016 title. The 10 Finals games between the teams saw the Lynx outscore Los Angeles by just six points (774 to 759).
Getting my free WNBA picks is a great start, but my expert picks are even better. Don't delay, and you could become the best WNBA bettor in your group of friends.
WNBA Bets
Traditionally wagering money on the WNBA doesn't tend to attract too many square bettors. For one, the games are not always televised and interest is low, making the casual bettor more uneducated than normal.
Bets placed on the WNBA are many times up to twenty times less than a standard NBA game.
However, this can also create some unique opportunities for sports bettors. The point can be made that because of the low profile of the sport, oddsmakers and sportsbooks are not as well informed as they would be in other sports. Therefore, point spreads may not always reflect a true and accurate representation of the upcoming game.
Because of the fact that there are only twelve teams in the league, sharp bettors can make it a point to watch all of the games on the schedule, making themselves more educated on the sport than many of the oddsmakers. This can allow them to shift the actual line a bit before the contest.
Therefore, square bettors should look for a way to follow the sharp bettors' leads when it comes to WNBA bets. One way to do this is to monitor reverse line movement. The Reverse Line Movement happens when the betting line (Spread, Moneyline, or O/U) moves in the opposite direction of the betting percentages. Bettors can be alerted to these changes automatically if they subscribe to a service that is able to provide that option (or hire us at Wunderdog to do this for you).
Another strategy is the ability to track steam moves as they relate to the WNBA. A steam move is a change in the sports betting market that happens due to heavy betting action. Steam plays are caused by high-volume bettors or what are sometimes called betting syndicates.
Why Choose Wunderdog?
If you are looking for WNBA expert picks, then you simply must subscribe today to get this information delivered straight to your inbox. There is no more searching around the internet for WNBA predictions as I will always deliver more than you will ever need.
Just because the WNBA is not as popular as the NBA, that doesn't mean that there aren't still some terrific betting opportunities out there. I promise to find these opportunities for you and deliver you the information you need to make some money. So instead of being scared off by the WNBA, it might make sense to hire a WNBA sports handicapper to help you with your WNBA Predictions today!