Free College Football Picks

We all know about the rich tradition of NCAA college football. The history, the rivalries and the pageantry are as rich and as diverse as the country itself. With that, the face of college football is changing. Over the last couple of years, conferences are re-aligning; rich, storied rivalries have been dissolved and a seismic shift in college football, and therefore college football picks, is underway.
In my two-plus decades working as a sports betting handicapper, I have developed a love and appreciation for the sport of college football. The National Football League will always be the most popular sport to bet on in the US, but college football is a close second.
I have delivered some terrific free college football picks over the last 20 years, and my success rate speaks for itself. College football picks against the spread are obviously my specialty, and this is the most popular way to bet on the sport.
College football is played with similar rules to the NFL, but the results of these games tend to be much different. There tend to be a ton of blowouts each week in college football, and that can make college football picks against the spread different.
Sportsbooks continue to improve how they set and establish college football spreads, but I remain one step ahead of them. Their NCAAF computer picks are good, but my research and knowledge are even better.
Why choose college football picks at Wunderdog?
If you are looking for the best college football against the spread picks, then you have come to the right place. I can make you a big winner each fall, and I will deliver these picks right to you every single week.
College football is only going to continue to get more popular over the next few years, and that will produce even more college football spread betting opportunities. Follow me for all of the best picks, and you won't be disappointed.
The way we make college football picks is changing
Now that college football is moving towards a playoffs system, it is clear that the old way of handicapping college football games is gone. Sure, you still have to know Xs and Os and understand and factor-in things like personnel, injuries, and momentum. But now you have to factor in new matchups and how these different alignments will affect how you make your college football picks.
Now more than ever, it is imperative that you get your free college football picks from the best sports handicapper who has had a proven record through all the different changes to this sport. As things change, I will work my hardest to continue to be your #1 source for sports handicapping information and advice.
My college football picks evolve with the changes
Speaking of track record, I have weathered changes to the college football landscape before. Several years ago, college football went through another huge change with the advent of the Bowl Championship Series (BCS). All of a sudden, winning was no longer enough for a school to be considered tops in the nation. More and more variables were introduced to determine a "true" National Champion. This put more emphasis on factors like a team's strength of schedule, and made betting on college football even harder. Along with the advent of the BCS, coaches' challenges, and updated overtime rules forced me to adapt.
I have successfully updated my unique system for making expert college football against the spread picks. All of my research, raw data and profitable situations are always up-to-date, cutting edge and are simply the best around. And just because it may be the offseason, I'm not resting on my laurels. In order to back-up my proven successful track record, I never stop working. So when spring games evolve to the regular season, conference schedule and bowl games, rest assured that I will have my finger on the pulse of the new college football landscape.
If you are ready to take your college football plays to the next level, make the right call and join me. Sign up for weekly free college betting picks against the spread and start winning now!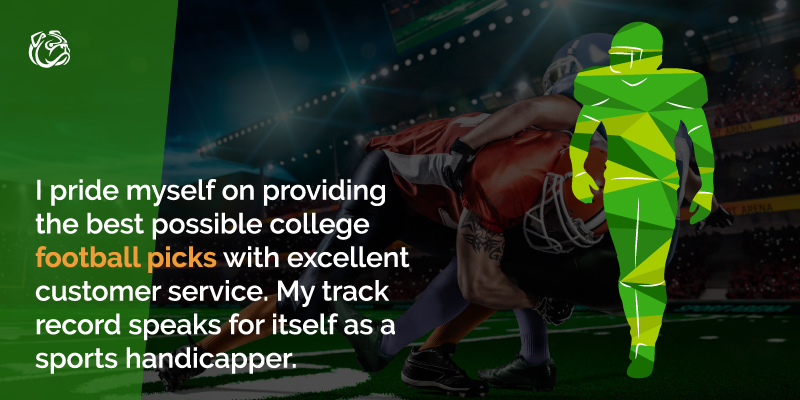 College Football Picks Against the Spread
It used to be that a winning record was enough. Now you have to have a tough schedule, run the score up on your opponents, and win all of your games. My NCAAF free picks take these new rules into account.
While this might make for an undisputed champion (although you'll be hard pressed to find anyone who would agree to that), it has done some tricky things to college football betting. You now need to have the insight & knowledge in order to beat the bookmaker week in and week out when it comes to the BCS.
I share my advice with each expert college football pick, I try to help you learn how to bet on college football and also give you some factors to consider and strategies that work for me.

College Football Predictions
The BCS equation makes it so that taking the points can be a dangerous proposition, unless you get your free college football picks & predictions from a trusted sports handicapping service. Teams now have an incentive to run up the score and keep their best players in for the entire game. This does make it difficult to take the points, while also doing some other interesting things to the rest of the season.
No score is ever safe, but what the BCS does for the college football betting world is give us a little security from point-shaving; however, it also forces people who are looking for college football picks against the spread to really consider their source when choosing the underdog. And as long as you are using my college football predictions, you are on solid ground.
Other College Football Betting Types
College football against the spread betting will always dominate the market, but that doesn't mean that you don't have other options. My college football knowledge is vast, and I'm always looking for new ways to use that knowledge and experience to benefit my customers.
Moneyline
Moneyline betting iis very common when betting on college football. Moneylines in CFB tend to be bigger as the spreads are usually bigger than the NFL. Betting the moneyline can provide a big payout when it comes to betting college football but you need to be very careful when betting a big favorite that you don't get burned by laying big ML to win a little amount.
One my specialties is delivering moneyline underdog picks, and this can make you a big winner each weekend.
Totals
Another popular college football bet is a total or over/under, and this is another area that I dominate.
My research not only picks out the best college picks against the spread picks but also reveals some good opportunites when betting totals.
Are you ready for college football picks that win?
If you're ready to start winning on your bets, then you need reliable college football picks that will make you money. And you can get that with me at Wunderdog by signing up for my free college football picks against the spread. My newsletter will deliver the best in college football picks right to your inbox.