The Ultimate Video Guide to Winning at Sports Betting
A free 10-part educational video series
If you're wondering how to make money in sports betting, you're in luck, as at Wunderdog, I've spent the last three decades in the sports betting industry doing just that. My main goal is to help other bettors beat the books, and I've put together this ultimate How to Win at Sports Betting video series. This series will give you the in and outs on how to bet on sports & WIN!
In this video series, I'll explain how to set your bankroll, how to find winning picks, how to set reasonable expectations and many other key factors to being successful. After viewing all 10 videos, you'll become an expert on how to bet on sports and start winning money!
Here's what you will learn in this series:
Video #1 - Welcome and Introduction
What you will learn in this video:
Who is Geoff and how was Wunderdog Sports started
Why is Geoff qualified to help you learn how to win at sports betting
What you can expect to learn in this series and why you will start to win more
Video #2 - How to Lose at Sports Betting
What you will learn in this video:
Why winning in sports betting is so difficult
Why sucker bets are bleeding your bankroll
Video #3 - Set Reasonable Expectations
What you will learn in this video:
How to set reasonable expectations for results
Why sports betting is highly variable and how to reduce variance
Why sports betting consists of both skill and luck
How much you can win and a likely range of outcomes
How to calculate and use ROI
How sports betting compares to the stock market
Video #4 - Determine Your Bankroll and Bet Size
What you will learn in this video:
Bankroll management is vital to winning
Why you are betting way too much
How to determine your bet size
Video #5 - Make or Find Winning Picks
What you will learn in this video:
Why your picks suck
What sucker bets you need to avoid
How to find trustworthy help in making winning picks
Video #6 - Shop for the Best Price
What you will learn in this video:
Why line shopping is a critical step in winning
How you can find "sale" prices on sportsbook commissions
How to double your profits using the same picks
Video #7 - Understanding Variance
What you will learn in this video:
Why sports betting has much higher variance than other investments
Why accepting high variance, and losing, are critical to winning
Why the impatient gambler loses
How professional sports bettors reduce variance
Video #8 - Understanding Line Movement
What you will learn in this video:
The difference between "sharps" and "squares"
What causes line movement and what you should do about it
Why key numbers in sports betting are so important
Why do sportsbooks fear middles, and how to take advantage of this
When it makes sense to buy points
What you should do when a line moves
Video #9 - How to Avoid Getting Scammed
What you will learn in this video:
Why it's very hard to win at sports betting
How to determine if hiring a sports handicapper is right for YOU
Why most professional handicappers are dishonest
Surefire ways to spot "Scamdicappers"
How to find an honest and reputable sports advisor if you want one
Video #10 - Recap & Special Offer
What you will learn from this video:
A recap of why you are losing now including common pitfalls
A recap of how to start winning more including all the steps required and mindset shifts
A recap of how to avoid scammers and how to find trustworthy help if you want it
A special promotional discount if you want to try my services
Testimonials

W-Dog you are amazing. I've been following you and taking your expert advice and the only thing I normally screw up are my own picks. Thanks again.
Bill Fleming - Madison, WI

I changed some of my practices because of your videos. This image shows a 7-day history with a huge ROI and 74% WP!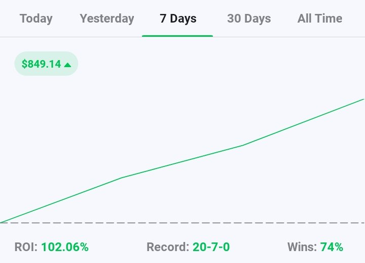 Matt - Phoenix, AZ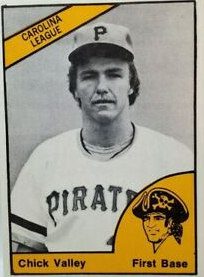 I just watched your 10 part series, and thought it was appropriate to comment. First, a little background – I am an ex professional baseball player. I made it as high as AAA. I have a +5 handicap in golf. Sports has been my life. I love competition. My ex-wife used to say that if they televised the tidily winks championship, I would watch. I'd rather bet on me, but those days are gone. I can't get enough competition, and sports betting gives me that option. Because of my background, I have always thought I had a good understanding of winning/losing, but more importantly, I feel I have a decent understanding of why (or when) an athlete under or over performs. I dabble in on-line gambling (Bovada). I am a small better, but enjoy the process of attempting to predict outcomes. 

In watching your 10 part video, I noticed three things: 1. I already knew (and practiced) some of your philosophies. 2. I learned many things that I have not considered. 3. You reiterated things I really needed to hear. Anybody that wants to improve, should listen to and adhere (strictly) to your views, opinions, logic & track record.

A few years ago, I subscribed to your NFL picks, and won. I couldn't believe some of the picks you made (that I disagreed with). Your picks won a lot more then mine would have. Thank you for that. I enjoy everything you have to offer. I read and listen to anything you have to say, because it makes me a better gambler. Just wanted to let you know I am a big fan. Keep up the hard, diligent and honest approach. There are very few {others} out there worth considering. You, my friend, are one.


Chick Valley - Fresno, CA

I bet to make a little extra money & because it makes for an exciting hobby. You guys are honest and can pull some rabbits out of the hat as good as I have seen. I would definitely recommend your service highly. AS GOOD AS IT GETS IN MY BOOK!! KEEP SWINGING!!
Pete J. - Jackson, Mississippi

I changed some of my practices because of your videos. Thank you!
Matt @mdubs

Hi Geoff, I wanted to let you know how much I appreciated your 10-part video series on sports betting. It was the most comprehensive training I have ever had on the subject! Please know I am 70 and have been betting for about 50 years, mostly by the seat of my pants. Hence, as you suggested in your "Set Proper Expectations" subject, I am mostly an all-time loser. But I do have fun with it regardless.
I have encountered many scammers out there in my day, and those experiences have cost me mucho dinero. You, on the other hand, are refreshing and likable. I am impressed with your track record and your philosophy on transparency!
Thanks again for all the work you put into the video series and assisting your clients. I wish you the best for now and in your future.
Thomas M. - Safety Harbor, FL

I'm a novice sports bettor, and I recently finished your YouTube video series. First and foremost, I want to thank you so much for providing that content free of charge. It was so refreshing to realize the mistakes I was making, and since I've implemented what I have learned in your series, I am up +0.42u with an ROI of 0.98% - which to me is a huge improvement. I have stopped betting and thinking like a fan, and instead am thinking more in terms of + & - EV, closing line value, line movement, and how I can align myself with sharp bettors. I don't have a large bankroll ($1,000 bankroll with a modest $10.00 unit size), but I very much appreciate the daily free picks send to my inbox. Again, thanks so much for providing that video series free of charge on YouTube. It helped immensely.
David S - British Columbia, Canada

Geoff you are the king I have been making money off the free picks for years now. The videos are incredible advice, this is legit thank you!
Corey - YouTube

This is the best video I've seen on the internet. It's sickening what scammers are able to get away with. I hope more people watch your channel and follow your advice.
Mr. Gambit, IG

I watched the 10 part video series last night and after reflecting on it overnight I felt like I should send you an email. A little background on me, lifelong sports fan and novice sports gambler. I stumbled on your video series probably from a targeted social media ad. I have to say I'm impressed with the honesty of your videos. I bet on games for fun and my bankroll is way under what makes sense to join your service however I learned quite a bit from watching the videos specifically around bankroll management and managing variance. Anyway, I thought it was refreshing that you were honest about the fact that it makes no sense for me to subscribe to your service. If my bankroll ever gets to a point where it makes sense to subscribe to a service, Wunderdog is where I will come.
Thanks for the honesty and advice

@mdubs Twitter - Connecticut