It's a long season. Who's helping you win your NBA bets?
I've been picking NBA spread winners for over two decades. My analytical approach to NBA handicapping gives you winning picks against the spread, on the total (over/under), and on the moneyline.
I use statistical modeling combined with a keen understanding of human nature and the NBA betting market to make my predictions. And I guarantee my NBA picks—if they don't win, I keep working for you until they do.
NBA
All Playoff Picks are 187-131 (59%)
Last 2.0 years
Over the last 2.0 years
+$53,120
NBA
Free Picks are 463-422 (52%)
Last 13.7 years
Over the last 13.7 years
+$43,080
NBA
Max Plays are 50-30 (63%)
Last 8.3 months
Over the last 8.3 months
+$30,360
NBA
Max Plays are 9-5 (64%)
Last 1.6 months
Over the last 1.6 months
+$6,600
NBA
All Picks are 44-38 (54%)
Last 1.3 months
Over the last 1.3 months
+$6,190
NBA
Free Picks are 6-2 (75%)
Last 1.6 months
Over the last 1.6 months
+$4,260
My Free Premium NBA Pick of the Day
Thursday May 26
Dallas Mavericks vs. Golden State Warriors
Golden State seems to do this every round, that is give the opponent a win in an otherwise lopsided series before putting them away the next time out with relative ease. Look for that trend to continue as the Warriors go for another Gentleman's Sweep after losing 119-109 on Tuesday when Luke Doncic scored 30 points for the desperate Mavericks.
It snapped a nine-game winning streak in Western Conference finals games for Golden State and now it goes home where the Warriors have covered nine of their past 11 games. Dallas is 1-5 ATS its last six road games and 9-4 OVER its past 13 on the road and 12-5 OVER overall against teams with winning records.
Game 4 went OVER by 12 points as the teams combined to shoot nearly 50-percent overall. 14 of the past 20 meetings have soared OVER. Golden State lost to Memphis by 39 points in Game 5 when leading 3-1 in the conference semifinals and then blew out the Grizzlies in Game 6.
Look for a similar result tonight. Play the Warriors to cover, and take the OVER.
My Pick: Golden State -7 (-105)
Why use free NBA picks from a pro handicapper
It's really hard to win on your own. You can bet on the NBA on your own or using the many free tools on this site, but getting help from an expert can really help you win more over the long haul.

If you want expert help, I'm here to provide you with free premium picks.
I've been predicting NBA games for 22 years. During that time, I've built a database of 690 individual data points on each of 25,746 NBA basketball games played.
Using these stats, I've made 11,004 premium NBA picks in my career. Get my picks to benefit from this experience.
My guaranteed NBA picks and predictions don't mean I'll successfully pick the winner of each game every time, but my success rate speaks for itself. My guarantee comes from the fact that I will always put in the work to give you the best opportunity to win.
Want expert advice? Sign up for my free picks or purchase one of my NBA pick packages.
Prefer to DIY your betting strategy? Check out my free How to Win Series.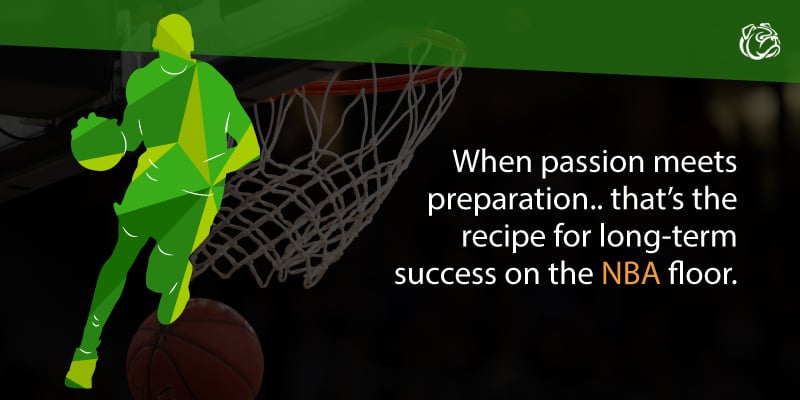 Is there any betting value in free picks?
You bet there is. But only if those free picks are backed by research and statistical analysis. Some handicappers give out free picks that aren't much more than the toss of a coin. They're hoping they win—I don't rely on hope.
The free expert NBA picks I provide are a sample of my actual premium picks. Each free pick I provide is also a pick sent to my premium subscribers who are paying for my advice. This means you can trust that a lot of thought, analysis, and energy has gone into my free picks.
Why do I give NBA picks for free?
I give out samples so that people can try before they buy. I'm in the business of selling picks, but I understand that you want to be sure they win before you invest your money. What better way to prove that than by giving you a free sample? I send out several free NBA sports betting picks per week so you can get a feel for how I think and make my predictions before you buy.
And if you never want to buy and just want to use the free picks, I'm fine with that, too. I hope they help you win more!
Wunderdog Free NBA Expert Picks
The NBA is one of the most exciting sports in the world, and it's understandable you'd want to get in on the action. This is why I provide free picks throughout the entire season, including the regular season, 2023 NBA playoffs, and NBA Finals.
Beating the NBA odds requires expert handicapping. I've invested 22 years doing this professionally so that you can place your bets, sit back, and enjoy the games.
NBA Betting Philosophy
I bring a unique strategy to the NBA that includes the use of statistical modeling, betting systems and trends honed over 25 years, and an understanding of betting tendencies and public betting action.
Each day of the NBA season, I analyze a myriad of hoops information, closely tracking the results of all games played by all teams. I also use power ratings (my own and others) and hundreds of high-percentage historical situations.
My approach purposefully avoids hunches, "soft" data, or personal gut opinions. I look for agreement between all of my sources which results in a few picks that are the cream of the crop. You can buy them here.
And, know that every single pick I release has a detailed writeup, explaining why I'm making the pick and giving you a glimpse into how I handicap these NBA games.
NBA FREE PICKS + EXPERT TIPS
"84% of the time, the team that covers the spread also wins"
NBA Predictions Track Record
Handicapping sports professionally requires the ability to adapt to changes in market conditions. Free agency and new rules impact betting results, as do changes outside the game itself, such as the legalization of sports betting in U.S. markets.
The NBA in its current state is as good as it's ever been, and through my adaptability and commitment to data analysis, I've managed to hit five winning seasons out of the past six (83%).
NBA picks from 2017-23: 1,798-1,647

Five winning seasons out of six

Three of six seasons with a net bankroll gain greater than +$13K

First-half totals: 77-46 (63%) for +$33,790
My NBA Playoff picks during that six-year span went 389-324 (55%), returning +$35,760 for dime bettors.
Premium picks in 2021-22 finished +33.5 units, up +52 games over .500 at 331-279 (54%). This was my third-most profitable season of all time.
Net profit for the year was +$33,480, and the big money makers were:
Moneyline picks = +$14,240 with a 47-35 (57%) record

First-half totals = +$11,790 with a 22-11 (67%) record

Full-game totals = +$6,350 at 57-48 (54%)

Picks rated at 1.5/2 units finished 171-141 (55%) for a profit of +$13,720
Max Plays, regular season and playoff combined, have been riding a 50-30 (63%) heater since April 2023, good for a +$6,600 gain.
When it comes to the learning curve, I'm way ahead of it, and my customers can attest to that.
Past NBA Premium Picks
Boston at Indiana
December 4, 2023
7:30 PM ET
Premium Pick
This is the East Quarterfinals of the In-Season Tournament and Indiana is in a big revenge spot after being embarrassed by the Celtics 155-104 on Nov. 1. The Pacers come off a 144-129 win over Miami on Saturday as Bruce Brown scored 30 points and Indiana shot a blistering 66 p...
Portland at Utah
December 2, 2023
9:30 PM ET
Premium Pick
The teams have split two meetings this season with Portland winning the rematch 121-105 on Nov. 22 and the Trail Blazers are 4-1 ATS the past five meetings. Portland is on a 4-0 ATS streak wi...
Oklahoma City at Dallas
December 2, 2023
9:00 PM ET
Premium Pick
Dallas has generally followed up losses with wins and the Mavericks are in that position again as they come off a 108-94 defeat against lowly Memphis. The Mavericks will be focused after losing to such a bad team with or without Luka Doncic, who sat out due to personal reasons and they are ...
Free NBA picks I provide
Here are the types of NBA picks you can expect from me:
Underdog NBA Picks
I love NBA underdogs. It's how I chose the name of my company, Wunderdog Sports.
I'm constantly looking for great underdog betting opportunities. These often come when a team has something to prove and has an emotional advantage over their opponent, if not a statistical one. Teams that underestimate their opponents are ripe for an upset loss, and I excel at finding these opportunities throughout the NBA season.
NBA Consensus Picks
An important arrow in your NBA betting quiver is an understanding of what the public (and the pros) are doing. I use NBA consensus betting information as part of my handicapping approach.
Blindly following (or fading) the rest of the bettors is never a profitable approach long term. We have to try to assess who the sharp bettors are on. And we need to know when it makes sense to follow the herd or go contrarian.
Free NBA Computer Picks
One of the self-help tools I provide for NBA bettors is my free NBA computer picks. For those of you that want a good starting point to predict the score of an upcoming NBA game, my computer picks are a great place to start.
Free Computer Picks vs. Free Premium Picks
My free computer picks are available for everyone to use and they predict the outcomes of every single 2023 NBA game. While useful, we must understand the limitations of computer picks.
Computer picks don't take into account very important aspects of winning handicapping including injuries, motivation, historical trends, the betting public and human nature.
For this reason, computer picks should not just be bet blindly. Other analysis is required to win.
Each day of the NBA season, I am doing all this analysis. I provide a free NBA premium pick to my newsletter subscribers several times weekly. Unlike computer picks, these free premium picks come with detailed analysis and take into account all aspects of the handicapping process. If you aren't already receiving my free expert picks in your inbox, sign up free here.
NBA Picks Against the Spread
One of my specialties is delivering expert NBA picks against the spread with my NBA best bets. Spread betting is the most popular form of betting on the NBA, and I most of my NBA bets are picks ATS.
Each day, I take a look at the schedule and determine which games provide the best spread betting opportunities. From there, I spend some time looking at the NBA odds and figuring out which is the best way to bet. Most of the best opportunities are picks against the spread, as the spread equals out the two teams.
My NBA picks against the spread include both favorites and underdogs, each with a detailed explanation for why I am making that pick.
NBA Moneyline Picks
Moneyline betting entails picking the winner of the game, regardless of the spread. If our team wins, we win, regardless of the margin of victory.
Oftentimes, when there is no value on betting a team against the spread (because the oddsmakers have made a correct line), we can still find value on betting on a team on the moneyline.
My picks include NBA moneyline plays. Sometimes I will take a small favorite to win outright if I feel they are likely to win the game, but not cover the spread. Other times, I will take a shot on an underdog to win outright. When these come through, we get paid at a higher rate than even money.
NBA Over/Under Picks
I love betting NBA totals. When we wager on the total number of points scored by both teams, we don't care who wins. Rather, we only care about whether the total points scored by both teams will exceed or fall short of a number the oddsmakers have set.
Situations align in the NBA that tend to result in higher-than-expected scoring, or as is often the case, lower-than-expected scoring. The public tends to root for offense, so most of my NBA Over/Under picks are on the Under. While it can be more exciting to root for a lot of scoring, the most fun is had by cashing our NBA bets.
NBA Daily Picks
Each NBA team plays 82 regular season games and the season lasts nearly a half year. That means we can have a lot of betting action throughout the NBA season.
I provide daily NBA picks every single day. Premium subscribers receive an average of 3-5 NBA picks every single day.
NBA Playoffs Picks
The long NBA season is great for producing lots of betting opportunities. But each game isn't all that meaningful. Sometimes teams rest their best players to prepare for the playoffs.
In contrast, the NBA playoffs provides for maximum excitement in every game, since very game counts. Teams don't rest starters or relax in the postseason.
Handicapping the NBA playoffs requires an entirely different approach to the regular season, thanks to its different nature.
NBA Parlay Picks
My Parlay Club provides cross-sport parlays every day. I often include NBA predictions as part of those parlays during the season. If you enjoy betting parlays, check out my Parlay Club for winning parlays.
Tools for NBA betting
While my free premium picks will give you the best chance to win, I realize you may want to do it yourself.
Looking for self-help tools to help in making your own NBA picks for today? I've got you covered.
Check out these free tools to help you win more of your own basketball picks:
NBA Consensus Data
My NBA basketball consensus picks show you who the betting public is backing. Like fading the public? Go the other way. Like riding the wave of what most people think will happen? Follow them. The choice is yours.
My consensus data is available for every single NBA game throughout the regular season and playoffs, including the NBA Finals.
Lines and Odds
When we bet on the NBA, we have to beat the Vegas betting odds at our favorite sportsbook. I provide up-to-the-minute NBA lines and odds for every game, including full-game odds, lines, and odds for first-half and second-half betting, and even first-quarter odds.
FAQ
What are free NBA picks?
Free NBA picks are predictions made by experts or professional handicappers on the outcomes of NBA games. These picks are offered to bettors and basketball fans who are looking for guidance on which team to bet on or which team is likely to win.
How can I find the best NBA picks?
To find the best NBA picks, you can refer to reputable sports betting websites, forums, or blogs that offer expert analysis and predictions. It's also helpful to follow experienced basketball handicappers or analysts on social media platforms to get their insights and recommendations.
What does "picks against the spread" mean in NBA betting?
"Picks against the spread" in NBA betting refers to predictions on which team will cover the point spread set by oddsmakers. The point spread is a handicap that aims to equalize the chances of both teams winning. When making picks against the spread, bettors will consider factors such as team performance, injuries, and previous matchups.
How can I get NBA picks today?
There are various ways to get NBA picks for today's games. You can visit sports betting websites that offer free picks (like this one), follow basketball analysts or handicappers who provide daily picks on social media platforms, or join online communities where members share their picks and predictions. Get my free premium picks.
Are NBA picks against the spread more accurate?
NBA picks against the spread can be more accurate in terms of predicting the outcome of a game, as they take into account the point spread and aim to factor in the margin of victory or defeat. It's important to note though, that no pick is guaranteed, and the final outcome of a game can still be unpredictable.
Can I find expert NBA picks for the playoffs?
Yes, many sports betting websites and basketball analysts offer expert NBA picks specifically tailored for the playoffs. These picks take into consideration team performance during the regular season, playoff seeding, player injuries, and historical trends to provide valuable insights for bettors. I offer NBA playoffs packages every season.
How do I know if a website provides expert NBA picks?
To determine if a website provides expert NBA picks, look for indicators such as the credentials or track record of the handicappers or analysts associated with the website. Additionally, you can read reviews or testimonials from other users to gauge the accuracy and reliability of the picks provided.
What are NBA consensus picks?
NBA consensus picks refer to the most popular or widely favored picks among bettors or experts. These picks are aggregated from various sources and can give you an idea of the general sentiment or popular opinion on a particular game. However, it's important to do your own research and analysis before making a final decision.
How can I place my bet on NBA games?
To place your bet on NBA games, you need to sign up and create an account on a reputable sportsbook or online betting platform. Once registered, you can browse through the available NBA games and select the bet type you want to wage on (point spread, moneyline, or over/under). Follow the prompts to enter your desired stake and confirm your bet.
Where can I find the best NBA betting sites?
Finding the best NBA betting sites can be subjective, as it depends on individual preferences and needs. However, you can start by considering factors such as the site's reputation, user interface, variety of betting options, competitive odds, and promotions or bonuses offered for NBA betting.