Soccer Predictions And Betting Tips

How do you decide which soccer teams to bet on? There are like a million and one pro soccer teams. Is it a guessing game for you? Or do you take the time out of your day to read injury reports, research scoring and personnel trends and use predictive modeling to determine which team is going to win? If you do the latter, then perhaps Wunderdog Sports isn't for you. But if you take a less than formal approach to determining the outcome of the soccer matches and are looking for a little direction, then your search for a reliable sports handicapping service has come to an end.
When you get your soccer betting tips from Wunderdog, you're getting 20+ years of experience and expertly researched soccer predictions that will get you a win. Basically, I do all the hard work for you and provide the best soccer predictions in the game. Whether it's the English Premier League or European Champions League, I've got the best of the best when it comes to soccer betting tips and parlays. You can even get free soccer picks with my weekly newsletter - just sign up here.
Why choose Wunderdog for your soccer predictions?
I'm Wunderdog, and I meticulously research my picks and analyze them using predictive modeling to master my soccer predictions. Why? Basically - so you don't need to! In the sports betting world, who truly has the energy to do all the examinations needed to create reliable soccer tips? Unless it's your all day work, nobody has the sort of time for that, except for me. Because for me, it IS my all-day occupation, and I do it with an enthusiasm that isn't shared by fellow soccer handicappers.
Soccer predictions that WIN with Wunderdog
Everyone loves to win and everyone hates to lose, isn't that so? Well, that is valid, however, for me, I prefer not to lose more than I get a kick out of the chance to win. That drive and energy is what provides consistent winners to my clients each day with my soccer predictions and betting tips. Without stopping for even a minute, you can rely on me to take care of your handicapping needs with my daily free & paid soccer picks.
My soccer prediction philosophy
My energy for making effective soccer picks against the spread is second to none. However, you can't win on enthusiasm alone - this is the place where preparation, analysis and hard work come into play. I have over 20 years of experience in sports handicapping, and I pride myself on my accurate and reliable research and analysis in creating the best soccer predictions out there. The way I do that is with a lot of time and commitment to the game. So, every day of the soccer season, I investigate a heap ton of information to inform my soccer predictions. I also utilize insights, analysis, and many high-rate chronicled circumstances to make my paid soccer picks. That's what sets me apart from other sports handicappers.
The information I get helps to avoid hunches, "soft" data or personal gut opinions, which I just don't think cut it when it comes to reliable sports betting. Only when I go through all my sources do I finalize the premium and free soccer betting tips that I send to our clients. Sometimes this type of analysis only results in a few picks, but you can rest assured that these are cream of the crop.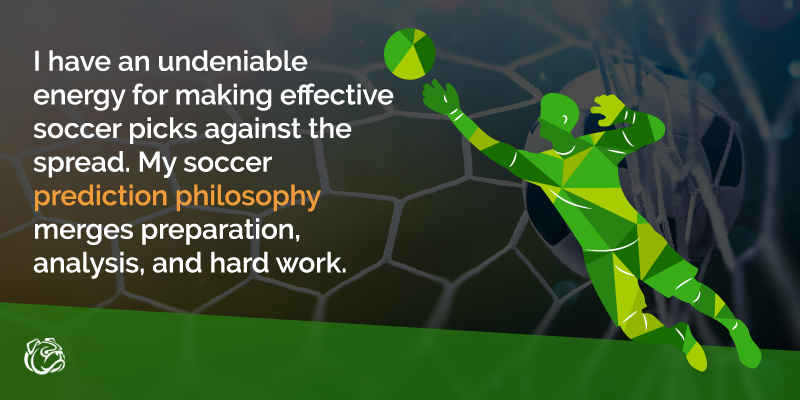 Get your free soccer betting tips today
My daily soccer picks are read by thousands of sports bettors just like you, making mine the most read sports betting newsletter in the world. So what keeps people opening our newsletter each day? Plain and simple: people who take my free soccer picks and predictions WIN.
Take advantage of my passion, preparation and 20+ years of sports handicapping experience and use it towards the mutual goal of winning more of your sports bets and making YOU more money. Use my consistent and proven method and sign up to receive free picks. The soccer ball is in your hands, so take the shot and make it count!
If you're ready to start winning your bets with expertly crafted and dependable soccer predictions and join nearly half a million other subscribers, just sign up to my free soccer picks newsletter, so you can get all the best reliable picks and parlays for soccer right to your inbox.
FAQs
Q: Where can I find the best soccer predictions for today?
A: You can find the best picks for today by signing up for my free soccer picks newsletter, where you'll get my expert soccer predictions straight to your inbox.
Q: How can I increase my chances of winning?
A: To increase your chances of winning, no matter the sport, you need to have the best sports picks on your side to inform the bets you make. And you've got to make sure they've been backed up by proper research and analysis rather than simply gut feelings. They're your best shot to increase your chances of winning, and something you get with me at Wunderdog.
Q: I don't like soccer. Why should I bet it?
A: Soccer offers up a great opportunity for all sports bettors. Soccer is one of the only sports where big long shots (+300) or more win each day. With the scores always being very close in soccer there is a great opportunity for big dogs to hit which in return provides more bang for your buck.. Sign up today for free soccer picks delivered to your inbox.
Q: Should I bet soccer on my own or hira sports handicapper?