NFL Betting Strategies from Wunderdog
Why underdogs make more sense in the NFL
Why the betting public makes underdogs valuable
Why most people can't bet underdogs consistently
More reasons why NFL underdogs are the way to profit
6 Reasons I like NFL Underdogs
Underdog or favorite? It's a choice we make 16 times per week during the NFL season. While there are certainly times when favorites warrant our attention, my experience tells me that betting underdogs is the best way to make money in the NFL. Still not sure? Here are six reasons why you should pay special attention the dogs this season when making your football picks. Want to get first hand experience of my NFL betting strategies? Sign up for my free nfl picks and see how I think.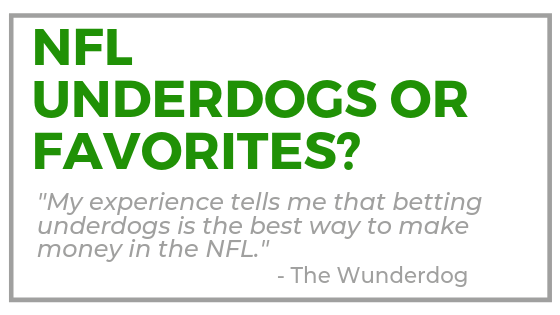 1. NFL Parity
The NFL has made great strides to achieve rough equality among teams. It has succeeded. Just look at these Super Bowl teams since the turn of the century: St. Louis in 2000, Baltimore in 2001, New England in 2002, Tampa Bay in 2003, Carolina in 2004 and the Giants in 2007. None of these teams were supposed to make it that far but they all did and many won, despite losing records the year before. In 2008, Arizona snuck up on everyone to make it to the Super Bowl. In 2009, the Saints were supposed to be a .500 team, but won 13 regular season games and the Super Bowl. Unlike the college game, any given team can win on Sunday in the NFL. Why not get some points to boot?
2. A Win is a Win
Again, unlike in College, there is no need to blow-out a team. Favorites that get up early don't typically run up the score in the NFL. It doesn't serve a purpose and in most cases, coaches would rather not embarrass their opponent and/or risk injury to their stars. In the NFL, big leads often dwindle, with underdogs covering late in the game.
3. The Rodney Dangerfield Effect
Underdogs don't get any respect! They don't get it from the NFL public, sometimes leading to higher than deserved spreads. More importantly, they don't get it from their opposition. Good teams can sometimes take bad teams lightly (especially if players and coaches minds are on other things, like next week's tougher opponent). Research and an understanding of historical trends can reveal great situations in which underdogs are poised for an upset.
4. The Public Can't Help Itself
The average bettor loves the popular teams (favorites), oftentimes pushing lines unreasonably high. We saw it during the 90's with Dallas and San Francisco. In fact, almost every week, with the right research, you can spot teams that should be favorites but are getting points against a popular team that has been installed as a favorite due to the public "bandwagon effect." For example, in 2003, Kansas City visited Cincinnati in week 10. The Chiefs had won nine straight and seemed invincible. In hindsight, Cincinnati was the easy underdog pick. Kansas City 's defense was ranked 25 in the the league at the time. Cincinnati was on a roll having won three of their last four games and Rudi Johnson was coming into his own. Cincinnati had the emotional edge and nothing to lose by taking a shot at an undefeated team they knew they could beat. However, the NFL public couldn't get over Kansas City's success and spot this situation. This scenario repeats itself year after year.
5. Got Courage?
Most bettors don't have the courage to go with certain NFL underdog picks. They see a (perceived) good team versus a (perceived) bad team and assume it won't be a contest. They have formed an opinion about how horrible some teams are based on a recent blowout or past personal gambling loss. Again, with the right combination of statistical and situational research, some undervalued dogs can be spotted each week. There are also certain situations in which bad teams have historically and reliably outperformed their average. Match that with a historically-proven situation in which favorites under-perform and you have yourself a reliable upset scenario. Lay on top of that the fact that most people can't stomach backing really bad teams, and you get extra line value and the best bets available.
6. The Point-spread Matters Less than You Think
Historically, the point-spread matters in the NFL only about 16% of the time. In other words, 84% of the time, the team that covers the spread also wins. With this knowledge, if you have underdogs that you really like (based on the right research, not a hunch), you can take them to win straight-up (money line), collecting anywhere from 1.2 to 4 times your original bet. Usually a three-point dog will pay around $140 for $100 for a straight-up win versus $100 for $110 wagered on a regular spread-based pick. Seven point underdogs pay around $250 for $100 for a straight-up win.
How to apply Underdog betting strategies on your next bet
Obviously just playing all underdogs is not the answer (that would yield you approximately 50% wins and a negative account balance). However, with the right research, you can spot some very high-value underdog winners each week.
Let's take a look at NFL Underdogs & Favorites for the 2023-24 season so far:
What an NFL betting season we've had so far. We've seen tanking teams win surprisingly; we've seen the Ravens score seemingly 1,000 points already, we've seen the Patriots play like, well, the Patriots always play. The question for us non-casual fans that don't play the game remains the same, did they cover the spread?
The Patriots have been rather predictable, covering 70 percent of the lines they are favored in, which has been every game. They lead the league against the spread, with the Rams right behind them at 6-3 ATS. The Bills, Seahawks, 49ers, Rams, and the Packers have a combined record of 12-0-1 ATS when they're the underdog, covering 100 percent of the time.
The Splits
As in most cases, if you're betting straight up, it's the home team's season, as is every other season. That's why home-field advantage is a thing. Unfortunately, most of us bet on the point spread, which is often all over the place and shows in the home and away splits.
Home teams are 68-90-4 ATS so far this season, covering just over 43 percent of the time. It's also been the year of the underdog, as they are 89-69-4, covering over 56 percent of the time.
Early this season, if you've been betting on road dogs, you've made yourself a pretty penny. NFL underdogs on the road have covered 60.19 percent of the time. NFL favorites at home have only covered 39.81 percent of the time.
If your plan is to bet the home or favored team in the second half, stick betting straight up, where the home teams record is 83-78-1, and the favorites are 101-60-1. Just don't bet a home underdog, as they've only covered 33.33 percent of the time.
Road Dogs
A few of my favorite NFL underdogs moving forward may scare you. Sometimes, your money has to go on bad teams though, just ask Vegas. The Arizona Cardinals, for example, are 3-7-1 straight up. A team playing for the future.
However, Arizona is 7-3-1 overall ATS, 7-2-1 when its an underdog, and 3-1 when its the underdog at home. The Cardinals lost the only game they were favored in this season. Some teams just play better with a chip on their shoulder.
The Denver Broncos are only 3-7 on the season, but they are 6-4 ATS. They're also 5-2 ATS when they're underdogs, and 2-1 at home when they're dogs.
The Miami Dolphins, who've finally won a few, have been underdogs in all 10 games and are 5-5 ATS. The Dolphins are 3-1 ATS as road dogs this season, just something to keep an eye on.
The Bills and Raiders don't qualify as "scary" underdogs, as they're both pretty good teams. The Bills are 7-3 and the Raiders are 6-4. But when these two teams play as underdogs this season, they've made bank.
The Bills are 3-0-1 ATS as underdogs, and the Raiders are 5-3. You'll likely see spreads shorten for these two teams a bit in the second half.
Playing it Safe
When playing NFL favorites straight up, you can basically look at their overall record or maybe see who Vegas is favoring to make your wager. If you're playing the point spread, it's oftentimes more about the point spread than it is about the team who's favored. I'll take the Bengals to cover the Patriots if the spread is right.
That being said, the Patriots, Rams, Cowboys and Packers have all been good ATS when favored this season. Moving forward, I look for at least three of those teams to keep that going, as the Rams and Cowboys play each other and have a couple of tough matchups upcoming, so their respective records ATS may come down to their own Week 15 matchup.
Within the NFC East, the Cowboys are 4-0 ATS. That bodes well for their matchups with the Eagles and Redskins; however, Dallas is 2-4 in non-division games and has tough matchups with the Bills and Rams coming up.
The Patriots will likely be favored the rest of their schedule, as their toughest two opponents, the Chiefs and Bills, both have to play on Tom Brady's turf. The spreads in those games could be extremely intriguing, though.
Everyone Loves Points
If you're a big Over/Under bettor, it's been a year of the under in the NFL, 83 games in the under, 79 in the over. When betting points in this league, be very cautious of any O/U that is set that begins with the digit 4, unless it's painfully obvious.
You're looking for upper 30s and maybe extremely low 40s to bet the over, high 40s and up for the under, and then I still check the matchup and injury report. I'm not a fan of betting the under in the NFL unless the total is in the 50s, and I'm certain.
Whether you're a points bettor, straight up, O/U, whatever your personal choice, there are some prime matchups left in the last couple of months for all of us to enjoy. It should be a fun ride.
Roll the dice a few times on some NFL underdogs, hedge with some NFL favorites, or maybe the points total. Have fun with it. Good luck and happy betting!