Betting and baseball are a strange combination, but MLB betting has started to become more and more popular. The rise in MLB betting has seen MLB picks and parlays as the most popular betting options as well.
If you are someone that hasn't heard about MLB parlay bets or are looking for some more information, then you have come to the right place. My name is Wunderdog, and I have spent more than 20 years as a sports handicapper.
My number one job is making MLB picks and parlays for my customers, but that's not the only service that I provide. I also love to share my knowledge and sports betting experience with my customers to help them become more successful.
This article will explain what MLB parlay betting looks like and also give some MLB betting tips to try out yourself.
What is an MLB Parlay?
An MLB parlay is a betting option that combines a number of single bets into one larger wager. This has become one of the most popular MLB betting options simply due to the potential for a large payout.
Of course, bettors are also taking on a ton of extra risk when making an MLB parlay wager, but most sports bettors only care about the potential reward. This is a betting option that can be successful, but only if it is done the right way.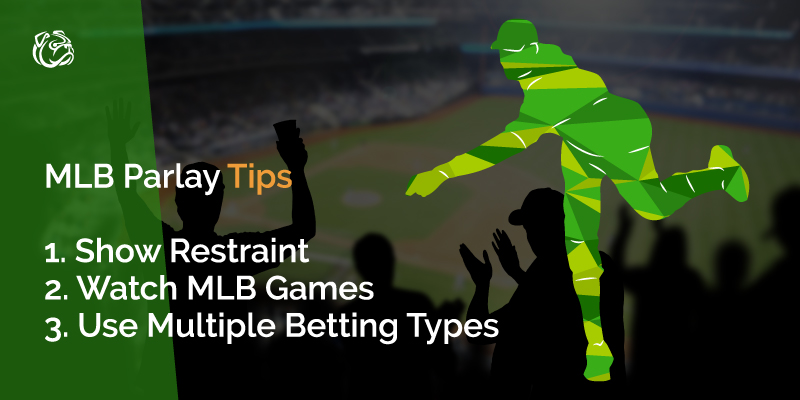 MLB Parlay Tips
I am not against MLB parlay betting, but I do believe that there are certain tips a bettor must follow if they want to win. There are certainly other MLB betting picks out there, but these are the best that I have found in my two-plus decades in the sports betting industry.
Show Restraint
The most important tip when it comes to MLB parlay betting is to show some restraint when putting together your bet. One of the biggest reasons that bettors fail when making picks and parlays for the MLB is that they add way too many legs onto the bet.
The size of the payout doesn't matter if the MLB parlay bet is not successful anyways. You want to limit your MLB parlay bet to only a few legs, as that will increase your chances of making a successful wager.
Watch MLB Games
The second MLB betting tip that I have for you is to actually watch MLB games in your spare time. This doesn't mean that you need to be glued in on every pitch of the season, but you need to have a general understanding of what is going on. Find out who is playing poorly and who the MLB underdogs are.
My MLB baseball picks and parlays will help guide you in the right direction, but you should also bring some of your own knowledge to the table. My picks are also delivered well in advance of the games, and things can always change before the first pitch is thrown.
Make sure you have done your research, and try to watch as many MLB games before making your MLB parlay if you want to nail your picks.
Use Multiple Betting Types
The final tip that I am going to share with you is not something that most bettors think about when putting together an MLB parlay. Most bettors simply stick to one betting option, and this severely limits their options when putting together the perfect MLB parlay.
I highly recommend looking at all betting options and choosing a few different ones when constructing your own MLB parlay. This not only gives you a better chance of winning, but it might also increase the odds of the parlay wager.
Wunderdog Baseball Picks and Parlays
If you want the best free baseball picks and parlays, then you simply must sign up for free picks today. Baseball is the longest professional sports season, and that means more than six months of quality sports betting picks.
I will deliver enough MLB free picks and parlays to help you increase your bankroll. My success rate speaks for itself, and you can become an extremely successful sports bettor by getting my picks emailed to you daily.
FAQs
Can you make a profit betting MLB parlays?
Yes, I strongly believe that you can make a profit betting MLB parlays, but only if it is done correctly. I provided you with some tips earlier in this article, and following those will give you the best chance.
You should also sign up for my MLB free picks and parlays to give you that extra advantage that might push you over the edge.
What happens if all but one leg loses?
The short answer is that your MLB parlay will be unsuccessful if not all of the legs win. That isn't always the case, though, as some sportsbooks now offer parlay insurance to give the bettor an extra incentive.
MLB parlay betting is extremely risky, but there is also a chance for a big reward. Winning four out of five bets is a great accomplishment, but in a parlay bet, it means that your entire MLB parlay is a losing bet.
Do I have to bet the runline?
Absolutely not. When you are creating your MLB picks and parlay, you are free to use all of the available betting options that are out there, and I encourage you to do so.
Betting the run line is just one of the MLB betting options, but you can also choose to add in some total or money line bets as well. My MLB picks will focus on a number of different betting options.
How many legs do I need for an MLB parlay?
Most sports bettors would consider an MLB parlay any bet that has at least two legs. The number of legs is really up to each individual bettor as to what they feel comfortable with.
I would suggest limiting your parlays as they are far riskier vs. straight bets. As always you can sign up for free sports picks by email and start winning more today!