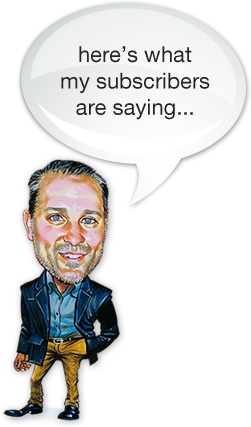 get free picks
The Wunderdog
Wunderdog Sports Picks LLC
Wunderdog Subscribers Speak Out
Hey Wunderdog, this was my first season using your service and I want to say thanks for your unbelievable insight. No matter what happens in the last 2 weeks of this NFL season, I want to say thanks again for a great year!!! I can't remember if it was week 7 or 8, but it was the week your NFL picks went 12-2. That was absolutely incredible and put me so far ahead that no matter what happened, I would be ahead. Everybody is getting tired of me bragging about that week. My friends thought I was crazy paying for NFL picks but now they see the cost of a year-long subscription is just an afterthought when you see the results come in. I just laugh at them when they want to know who to pick every week. Anyway, it has been a pleasure working with you and I will be sure to sign up early next season. By the way, I keep all my records on an Excel spreadsheet and I go back and look at the "winnings" column just to put a smile on my face...YOU ARE AWESOME!!!!
Eric, Hickory, NC
I want to say that I am a 61 year old male that has gambled recreationally for all my adult years. The few times, (mainly in response to a terrible losing streak), that I have engaged a service left a terrible taste. Simply stated, none had ethics or professionalism... until I was introduced to Wunderdog. In my opinion, your business model is a result of a founder that has a strong moral and ethical compass. It is a pleasure to do business with you.
Al Gardiner
Listen to a customer call:

What I have seen of your picks has proven to me you know your business. You are the best I have ever seen and I have known some good handicappers (spent 20 years in Las Vegas). I have been around gamblers and betting most of my life. I know some of the really good ones like Huey Mahl, John Luckman and Lou Holloway and a lot of scam artist like *****. I am 71 years old and my statement stands that you are the best I have ever seen. Quite a few handicappers (like myself) can pick $3 and $4 winners but you seem to get the unexpected big wins.
Charlie Wagley, Elk City, OK
I must give a testimony of your service. You are the best handicapper. With a Sunday and Monday Night like we saw, I am hungry for more, and I will re-up my College and NFL subscription before this weekend. You even picked the Cards against my hometown Eagles on Sunday, and let's say it was bittersweet. Hey won some cash on the Cards. The Seahawks was icing on the cake. I am through with your shady competitors who get the picks wrong and harass me by phone Saturday and Sunday mornings to buy their service. I am with the DOG all day all year.
Mark W. Philadelphia, PA
I have to say with all the handicappers out there screaming at you and telling you they have the "play of the year" and inside information and all the crap that goes with marketing and hype you are the first who I believe really has a system and is truly honest. Very refreshing... I will continue to get packages from you..
Larry L., San Diego, CA
I give up. I keep thinking I can "out-pick" you but I can't... A few weeks ago I would have NEVER taken Browns over Indy or San Fran over Buffalo! In fact, I probably would have taken the opposites. But I swallowed my pride and sure enough you nailed BOTH dogs - one of them outright!!! Instead of getting whacked - I won because of you... Great work - thanks so much!
Mark G., Naperville, IL
i have been on many different sports services in the last 20 yrs and i must say in the N.F.L I've never been more impressed. its like your psychic.P.B
Paul Blasetti, Rochester, NY
I have used several sports picks services. Your company is by far the best. Your customer service kicks ass on all of the others and your web site is put together top notch. I am looking forward to subscribing to the MLB Season Package.
Chris Hatton, Homewood, CA
I have to tell you that the vast majority of the sports touts that sell their picks would not really care if one of their packages was a loser. You, on the other hand, truly care about your customers and also your reputation. I would like to commend you on your high values and would like to say that you are the only person that I would buy picks from. Keep up the excellent work!
Raj B, Boston, MA
Mr Dog, I have tried so many handicappers it is unbelievable. I have never been happy with any of them because they lie about their winning records and just take your money. You are the first handicapper that has been honest, proven your winning record by posting honest results daily not lying about how many winners you had and getting the picks out in a timely manner. I am sure there are going to be losing streaks but I really believe I have found the only hndicapper that can produce winners and profit over the long haul. Thanks. Ted
Ted F., Knoxville, TN
I know my accolades are getting old hat by now ... but ... just gotta tell ya ... it's the ability to pick such a LOW point dog ... in a game that totals so many points ... that unequivically sets you apart as THE TOP PROFESSIONAL handicapper ... shrouded amongst the masses of rags that are out there posturing themselves as all knowing seers. Nice job, team. You guys are the leaders... the rare gem in a field of dull rocks.
Geary M, Birmingham, MI
You were so good last year, I would like to subscribe to this year's football picks. No hard sell, no high school drop out loud mouth jerks, none of the stuff that has for too long been associated with getting sports picks. I thank you for running such a first class operation. You make it a pleasure to do business. Thanks, Al
Al Collins, Brighton, IL/span>
Hello Wunderdog, This is a belated thank you for the $15 dollar NCAA basketball bracket. Using your exact picks I won $660 in one pool & $550 in another. I haven't told anyone they were your picks and not mine but you deserve some recognition so I will spread the word about you to other bettors like myself. Thanks again. Bob.
Bob S., Lincoln Park, NJ/span>
You have made a believer out of me. With your help, I have gone from a losing season, to a winning season, since I enlisted your services. I am up over $1000.00 in winnings over the last two weeks! Not only that, but since last week, (a winning week), did not win by as much as you wanted it to, you are giving me a free week of premium picks, Fantastic! I will definitely be signing on for the full season next year. Thank you wunderdog.
Ken Casey, Spartanburg, SC
I just had to write and tell you AND THE WORLD that you guys are a class act!!! Easily the most honest, thorough, and again the Classiest group on the Web or ANYWHERE ELSE!! For example I had 1 paid play and it lost. No big deal. But I WAS SHOCKED when the next day you gave me 6 GAMES as part of you're winning guarantee!!! AMAZING! Like I said a class act and I won't go anywhere else!! Thank You, Peter.
Peter M, Vancouver BC.
I just wanted to take a minute to thank you for being one of the few honest guys in the business. You don't win every time (but no one does) and I am truly impressed with your integrity. If I buy some package from you and I don't show a profit....I get another (same package) free....no questions asked. People are 10x more likely to tell other people about their bad customer service experiences than their good ones. So thanks again for being a standup guy.
Dale, Vancouver Canada
Whether you know it or not, win lose or draw, you have the best operated sports site I've ever purchased from. What a night !!!!! I went 4 and 1 without the NHL. I will be getting a season package as soon as I get out of work today. Keep up the good work. You're the man, I mean the "Dog" !!!
George, Charlotte, NC
As you well know, there are many 'Scammers' out there so of course I was skeptical... and I gave you some heat but like a true pro - you never lost your cool - and you never ducked a thing...you only gave me quick, respectful, and insightful answers to ALL of my questions and concerns!!! You said to be patient (which of course we are not today) and sure enough you were correct...Every time I turn around you seem to be nailing UNDERDOGS like mad!!!!!! I'm not sure people know just how hard that is to do..... Anyway - just want you to know I am a big fan and plan on using your service a lot in the near future. Thanks Again!!!!! Respectfully,
Mark G., Naperville, IL
I just finished reading over your site and I must tell you that I am very impressed. Your philosophy on baseball and the story it tells is right on the money. Your "stars" method and "winning feels like losing" is great. I plan on reading your newsletters as often as possible and in a week or so, buy a month of baseball picks. Keep doing what you are doing and I feel that you will be able to help me. Thanks, Nick
Nick C, Columbus, OH
You guys are the best. You guys are absolutely unreal. Your picks are the best around. A lot of my picks are the same as yours and as soon as I see you like what I like its for sure.
Jim Hayes, Illinois
Your Horse bet tips have been top shelf....Thank you.... I am retired on a fixed in come...So I am not a big better.....My wife would Elain Bobbitt me if i did...But just wanted to let you know how much I appreciate you....Sincerely....Jim (James) Thompson
Jim Thompson, Sanford, FL
Just a short note from one ex-handicapper to another. I am glad you come right out and announce the fact that you had a bad week last week. Many handicappers out there do not do this. The fact that you did tells me you do not give one side of a game to half your callers and the other side to the other callers. We both know that many of them do this also. Keep up the good work. If I decide to ever purchase someone else's selections it will definitely be Wunderdog.
Larry D. Campell, Erie, PA
You are unbelievable in this tourney. you are definitely the best capper out there. i am putting word out in northeast about you to all my friends. i tried a couple of others but you run a very professional and personable business. thank you.
Dan Baldwin, New Haven, CT
I have become a "Wunderdog" junkie and need my "fix" each night! ;-)
Cathy S., Petersberg FL
When I first came across the Wunderdog, I couldn't believe the underdogs he was picking. Well, now I am a believer. Great picks and advice all season long. Keep up the great work.
Greg S., Football-Party.com
Wunderdog, You have made me soooo much money with your picks in baseball and hockey, don't worry about the basketball picks. Your picks are always based on substantial analysis which I appreciate. Regards, Steve.
Steven K, New York, NY
Hey Guys ... just a quick note to tell ya's ... here's what impresses me about YOUR service ...has you standing apart from all others. It's not in the picks you DO make ... but rather ... how you, at times, analyze a game ... then DECLINE to pick... I admire your work, believe in your system. You do keep me looking, checking you out. Geary
Geary M, Birmingham, MI
Excellent call and analysis on the Orange Bowl guys! First time buying your service and my wallet thanks you!! Will do business again.
Mark Marshall, Baltimore, MD
Good customer service is every bit as important as a good winning percentage and you have done well on both fronts. Keep up the good work! Raj
Raj N,Princeton, NJ
I can tell you something that's real truth about a guy in Texas that is me. I try sooo hard to study and figure-and all that and sometimes I am right but since I have been with this service I have done so much better. I know its hard to lose but if you will follow this program I promise you WILL win. I mean this and I am hardheaded as hell. JUST DO IT!!!
Don Weiler, Houston TX
I appreciate the honesty of your site as you tell it like it happens. You have been up-front in stating your record in both the Pro and College picks. That says volumes in a profession where more are selling both sides of the game and so will always have some happy bettors unless you are always getting the losing side. I appreciate the work ethic that you have displayed in what I have received and would not hesitate to recommend my friends to purchase your picks. Thank you for allowing me to view your work and see what you claim and what you provide to those that come to your site
Cliff Meyer, Modesto CA
It's always great to see a handicapping service that takes a sensible approach, doesn't make outlandish claims, and, most important, has the results of every single play posted -- both on its Web site and on the site of an independent monitoring service. Any service unwilling to do that should never be trusted. As for Wunderdog's approach to beating the NFL, what makes better sense than to focus on underdogs that have an excellent chance to win games outright? Nothing! In the age of parity, it's dangerous to play favorites in the NFL, although the public continues to lay the wood and drive up the line. So, I'll gladly take Wunderdog's advice and grab the points, knowing that many times with his plays I won't even need the points.
D.L. Douglas, Austin TX
I have been betting on football for over 15 years. While I have only known Wunderdog this past season, his insight has helped me to add to my profits greatly. Wunderdog has what it takes to win in the NFL. The insight shown, and selections made, leave little doubt that WUNDERdog will provide WUNDERful profits for those who follow his advice!
B. Simpson, New York NY/span>
Your game insight and consistent success never ceases to amaze me. Some use the shotgun method, but you're more like a sharp shooter. Week in and week out I can count on you to uncover good, solid opportunities. I'm also very impressed with your overall philosophy. In my humble opinion, you are right on! To Wunderdog's site visitors: This guy is (and has been) on to something. Two years in a row is no fluke. If you're looking for cream of the crop predictions, give Wunderdog a long hard look. His overall philosophy is right on, and his predictions prove it.
Bruce D., nfladvantage.com/span>
When you read Wunderdog's analysis, you won't find things like "Get my baseball pick of the year", "Get my guaranteed 5 star NCAA pick", or even crazier, "I've got my Monday Night Football Game of the Year", when it's week #3. Dog simply tells it like it is, analyzing current and past trends along with how teams are playing today. I'm not saying the Dog will win 80% of the time, I'm saying the Dog will win. Underdog always came through, and so does Wunderdog!!!
Rick Walker, Hampshire IL/span>
Wunderdog brings both a unique and insightful perspective to online sports handicapping, which allows him to offer visitors with accurate and concise sports betting picks.
Ryan Webb
Very impressive! I have found that picking underdogs provides the best winning % - keep it up! thanks.
Paul B., Washington DC
Thanks Wunderdog! Since you became a part in my life I have become a winner. Thank you. Keep the success going!!!!
Matt M., Green Bay, WI
Hey people, the dog is the real deal. Wunderdog does his homework and gets the winners period. He's made a winner week after week.
LuckyScott
Dear Wunderdog. What I really liked was your analysis on how to pick winners in the playoffs. Good stuff! Keep up the good work and good luck next season. Sincerely, Bill
Bill K ., Lakewood, CO
Outstanding job so far. Your four day total so far is 10 wins and only 1 loss. I have been with other companies in the past and I have never seen a streak like this one. Continue with the great information and detailed newsletters. You certainly have it all at Wunderdog. Thanks for your hard work. You are very informative with your selections and I plan on staying on board. Keep up the good work.
Jim A
Nice picks. you are unbelievable when handicaping fast dirt tracks. another observation: in many of your races, I noticed that the winner is invariably one of your first two picks. how you do it is beyond me. best regards,
rigambler - paul, Pawtucket, RI
Wow you guys have been straight money on all your picks. You have sent me 6 winners in a row. I am cashing out tomorrow up big. Thanks great job
Joshua McRae, Norwhich, CT
Mr Dog, LOVE LOVE LOVE the Morning Coffee! Yet another example of your cutting edge, always one step ahead of the Herd! I'll be a fan/ member for life because of this Profound display of leading edge thought that you never fail to deliver! It's why your competitors are constantly in your rear-view mirror, where they DESERVE TO BE! #1 Fan
Peter Mustapic
I joined a Confidence Pool last year, knowing absolutely nothing about football and ending up being #1 and winning solely by using your site. Had all the men baffled, including my husband, son, brother and nephew! It was great! Your site has encouraged me to enjoy the camaraderie of these pools with the sports fanatics in our family. I plan on surprising them again this year!
Joyce
I have been involved with an Office Pool for the past 3 years. For the 2 previous years I used other online sources to make my weekly picks. Since I was a constant loser trying to figure out what weight to put on what teams each week, I decided to give your free picks a try last year. I managed to win 3 weekly jackpots and I won the overall yearly jackpot of over $500! I will be using your picks again this year. Hopefully I will come out a winner again this year. Thank You So Much.
Steve Camas, Washington
The pool I am in consists of 20 some people. It is a weekly picking of winners...2 years ago I finished second missing by 2 points the top spot. Last year I finished first with a double digit win using only your site. It is for bragging rights only. But it really has everyone wondering how I can be so right on or at least up in the points every week.
Gary
Way to pick the exact score on Monday Night! I got an extra 100 points for that one, it put me in 2nd overall out of 450. I told you last year that with your picks I would be #1 this year and I'm 1 win away from that! Thanks Wonderdog
Larry G., Norwalk, CA
I love your site...in fact I bought a week 3 weeks ago or so and betting only 25 a pick I came out 100 over price of picks...tks frank
Frank H., Pelham, AL