2011 NFL Predictions Premium
Season Team Previews and Over/Under Picks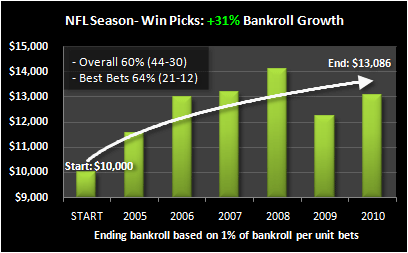 I've hit 60% (44-30) on these picks over the past four years including 21-12 (64%) on 3+ unit Best Bets. For more information on past performance, go here. For the 2011 season, I have 18 picks below including 8 Best Bets.
Atlanta Falcons UNDER 10 wins (-140) - 2 units
Overperformed last year by 2 wins (pythagorean)
+14 turnovers last year
Houston Texans OVER 8.5 wins (-145) - 2 units
Offense is nearly unstoppable
Defense was horrible but Phillips - not great head coach but gread D coordinator
Added Jonathan Joseph and Danieal Manning in secondary
Indianapolis Colts UNDER 9.5 wins (+125) - 2 units
3rd toughest schedule this year
Manning may be slipping (yards per attempt lowest since soph year)
Minnesota Vikings OVER 7 wins (-140) - 2 units
-11 in turnovers last season
New coach typically = more wins
McNabb likely has one good year in him, especially with AP toting the rock.
New Orleans Saints UNDER 10 wins (-145) - 2 units
Overperformed last year by 2 wins (pythagorean)
This team is very good but not great
New York Jets UNDER 10 wins (-130) - 2 units
Overperformed last year
+9 turnovers last year
3rd toughest schedule this year
Pittsburgh Steelers OVER 10.5 wins (-135) - 2 units
Very solid Super Bowl team that hasn't lost much
Easy schedule
San Diego Chargers OVER 10 wins (-140) - 2 units
Underperformed last year by 2 wins (pythagorean)
Locked up their best players, get Vincent Jackson back
Added Takeo Spikes and Travis LaBoy and Bob Sanders
San Francisco 49ers OVER 6 wins (+100) - 2 units
7-win (pythagorean) team from last year.
Jim Harbaugh will likely find way to get most out of talent, esp. Alex Smith
New coach typically = more wins
Washington Redskins OVER 6 wins (110) - 2 units
4th easiest schedule this year
Last year's distractinons (Haynesworth, McNabb) are gone.
Uncertainty at QB, but 6 wins is a low hurdle
Best Bets:
Baltimore Ravens UNDER 10.5 wins (-145) - 3 units
The Ravens won 12 games last year, but +7 turnovers, a super-easy schedule (ranked #31 going into last season) and a bit of luck helped them get there. Eight of their wins last year came by 7 points or less. The fact was, their defense was good but not elite (#10) and their offense was mediocre (#22). Those numbers don't usually predict 11+ wins. They really were more like a 10 or 11-win team. Many familiar faces (McGahee, Mason, McClain, Heap) are gone from this offense. I think Baltimore getting to 11 or more wins is a real stretch.
Cincinnati Bengals OVER 5.5 wins (+130) - 3 units
The Bengals suffered from -8 turnovers last year, along with the 4th hardest schedule going into last season (the absolute hardest when looking back on the season). This year, they get the 4th easiest, which is the biggest swing for any team. While they only won four games in 2010, their statistics would have predicted six (pythagorean wins), indicating that this team is underrated going into 2011. This is further evidenced by the fact that the Bengals were -5 net losses in close games (expectation is around 0) last season. Bruce Gradkowski is perennially underrated and given Carson Palmer's recent performance, Gradkowski may not be a downgrade. The core numbers for this team were not that bad last season (#20 on offense and #15 on defense). It's not hard for me to see Cincy winning six or more games in 2011.
Cleveland Browns OVER 6.5 wins (-150) - 3 units
The Browns are a team on the cusp of becoming respectable. Teams with new coaches tend to improve dramatically on average. The Browns won five games last season (pythagorean analysis said they should have won six). Colt McCoy did very well last season and now with a full offseason as the starter, I expect the Cleveland offense to continue its improvement. Let's not forget that last season the Browns beat the Patriots and the Saints and they took the Jets to overtime. The Browns were really hurt by injuries to starters last year. If they stay healthy and McCoy continues his development, this team could push to .500.
Denver Broncos OVER 5.5 wins (-145) - 3 units
The Broncos were bad last season under the not-ready-for-primetime Josh McDaniels. and can only get better. Their defense was atrocious (last in the league, allowing 391 yards and 29.4 points per game) thanks to McDaniels utter lack of interest there and can only get better with Elvis Dumervil (17 sacks in 2009) back. The good news is their offense was ranked 13th in the league last season. Denver suffered through a season of -9 turnovers in 2010, which should improve this season. Kyle Orton has staked claim to the starting role and that's a good choice by John Fox. In two seasons with the Broncos, Orton has averaged 3,700 yards with a 2-to-1 TD-to-INT ratio.
Kansas City Chiefs UNDER 8 wins (-150) - 3 units
The Chiefs over-performes last year. An easy schedule and +9 turnover margin led to a 10-win season. They weren't that good. This year they face the 3rd toughest schedule and they do so without Charlie Weis (a huge loss). The fact is, they won one game last season vs. a team with a winning record. They split games with the Chargers, but were outgained 3-to-1 in yards in those games! In the playoffs, Baltimore outgained them by over 200 yards. I expect KC to fall back under .500 this season.
New England Patriots UNDER 11.5 wins (+110) - 3 units
In 2008 the Pats won all 16 regular season games and two playoff games before losing in the Super Bowl to spoil a perfect season. It doesn't get more dissapointing than that. Last season was a close second, with New England going 14-2, only to bow out at home vs. the Jets. So, expectations are very high this year. But how good were they last year? They were very good for sure, but a ridiculous +28 turnover margin certainly helped deliver an extra win or two (the next closest was Pittsburgh at +17). Given the star factor of Brady and Bellichick, combined with a 14-win season, the Pats cannot be anything but overrated (if only slightly). In reality, the Pats should have won 12 games last season. As good as they did, it may surprise you that they had the 25th ranked defense last year. If that doesn't improve, getting to 12 wins will be very hard.
St. Louis Rams UNDER 7.5 wins (-120) - 3 units
The Rams showed promise last season with hopes having risen behind the arm of Sam Bradford. Despite him showing signs of someday becoming an elite NFL quarterback, he is not there yet. The reality is that this offense was ranked #26 last season and the team went 7-9 so there is a long way to go. Will they improve this season? I don't think so. They only beat one team with a winning record last season. Sam Bradford's progress will be slowed by having a new offensive coordinator and a shortened time to work with him in the offseason due to the lockout. I expect the Rams to fail to reach .500 again this season.
Carolina Panthers OVER 4.5 wins (-115) - 4 units
This is purely a contrarian call. The Panthers were awful last year. They were outscored by 212 points (by far the worst in the league) and won just two games. No one wants a piece of them and the oddsmakers know that. When a team is that bad, especially on offense (#32), they are by definition underrated. This team really has only one way to go - up. If they can turn some of their bad luck from last year (-8 in turnovers) around, they can win a few more games. Cam Newton should also provide a win or two over expectations. I like the Panthers to find a way to muster 5+ wins this season.
Good luck!