.
The 2009 NFL regular season is right around the corner and that means it's time to take advantage of the hapless books once again. Every year I predict NFL season performance (regular season win totals). Based on the performance (65% on 59 picks with no losing seasons), this is becoming one of the must-haves for serious NFL bettors. While most people don't pay attention to these bets, make no mistake – this is one of the best NFL betting opportunities available!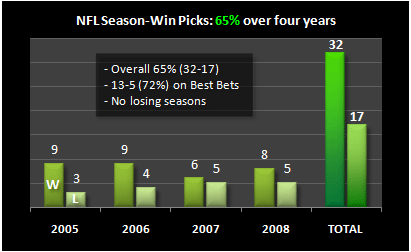 …By the way, I've also hit over 61% lifetime on my NFL preseason game picks (69-44 over six seasons). Check out my philosophy on NFL preseason picks and be sure you are getting my free NFL picks newsletter to get some of these free.
NFL Team Wins Totals – A great opportunity
Why are betting NFL season win totals such a great opportunity? Primarily because so few people put in the time and effort to make these types of NFL picks. Of the few that do put in time on these predictions, I believe that no one looks at them as scientifically as I do. Simply put, no one puts in the effort I do in predicting season win totals and the results bear this out.
For these reasons, I have hit 65% on my season win totals picks the past four years (9-3 in 2005, 9-4 in 2006, 6-5 in 2007 and 8-5 in 2008).
On my highest-rated picks (3 and 4 star), I am 13-5and I have seven of these this season.
These season win totals picks have become part of my official NFL picks that have have resulted in over 146 units of profit overall with my premium picks. $100 bettors have made $14,600 and dime players have taken down $146,000 in profit lifetime with Wunderdog Sports NFL.

2009 NFL Predictions – Team Win Totals
Ok, on to this year's picks. This season I have 13 season-wins picks. Below are three of these (2 star selections). The remaining 10 selections (including seven 3 and 4 star picks) are free to NFL season subscribers or can be ordered separately through September 10th, 2009 for $49 here.
Lines below are from Diamond Sportsbook.
Minnesota Vikings UNDER 9.5 wins (-125) – 2 stars
The Vikings got Favred this offseason and you know the Packers have to just be laughing. Brad Childress courted Favre hard, sending a clear message to Tavaris Jackson and Sage Rosenfels – I don't want either of you as my starter and I was prepared to cut one of you. Now that Favre said no, Childress must find a way to spin things positively.Childress was right – neither of these guys is a playoff-caliber quarterback. The Vikings have one of the best running backs in the league, but defenses will continue to improve their play against AP, and they can stack eight in the box without worrying about a passing game. Even last year, Peterson was very ineffective on first down as the Vikes averaged 8.11 yards-to-go on second downs. AP can break big runs but if he's putting his team in 2nd and 3rd and long, that's bad news for a team without a quality quarterback. Their schedule is middle-of-the road so that won't help nor hurt them. It's not just their schedule that's middle-of-the-road. It's this team. They ranked 17th in offensive yards per game last season and 13th in points allowed. And, they didn't improve measurably in any facet of the game. Chicago and Green Bay, teams the Vikes must face twice each this season, will be much improved. I expect the Vikings to win just eight or nine games in 2009.
Houston Texans UNDER 8.5 wins (-140) – 2 stars
The Texans have won eight games in each of the last two seasons. I expect a similar result in 2009. While many have picked them as a sleeper in 2009, I am not a believer. They finished the year on an 8-4 run, so they must be "on the uptick" right?They have Steve Slaton and Andre Johnson and the emerging Kevin Walter – big names with big-play ability so they must have a great offense, right? Not so fast. Their offense ate up yards in bunches last season but without a defense, it's hard to be a winning team. This team was ranked 27th in the league last season in points allowed. And yes they have a lot of offensive potential. But the fact remains that despite being ranked 3rd in the league in yards last season, they were below average in scoring. Matt Shaub has yet to live up to the hype and if he gets injured again, Dan Orlovsky will be taking snaps (Sage Rosenfels gone to Minnesota). This is a concern given the fact that Schaub has missed five games in each of his seasons as a starter. And, this team must face the Titans and Colts twice. I think the Texans are in for another mediocre or sub-par year.
Tennessee Titans UNDER 8.5 wins (+105) – 2 stars
The Titans were good last year, but 13 wins? They weren't that good. They benefitted from the second-best turnover differential in the league with 31 takeaways to just 17 turnovers. That kind of luck doesn't tend to repeat itself year-after-year. The fact is that teams like the Titans that finish the season ranked in the top 4 in scoring differential and notch 13+ wins fall hard the next season as they regress back to reality. These teams on average lose 4.95 wins year-over-year. If the Titans drop five wins from their 13, they will get to just eight wins this season. The Titans lost DT Albert Haynesworth in the off-season and that is a huge blow as he was a big reason for their defensive dominance in recent years. Is Kerry Collins really an elite quarterback? Based on his body of work, the answer is no. There is a reason this guy was a backup. He had a great 2008 but I doubt he'll do that in back-to-back years. And his receiving corp (Justin Gage, Nate Washington and Kenny Britt) certainly doesn't inspire fear in opposing defenses. Finally, let's not forget that Tennessee was 3-4 in their last seven games of last season.
Get my top season win picks!
I have ten more season-wins picks including seven 3 & 4 star season total picks (these top-rated selections have gone 13-5 lifetime). Get them through September 10, 2009 free with an NFL season subscription or get them separately for $49 here.
I've hit over 61% lifetime on my NFL preseason picks.
Check out my philosophy on NFL preseason picks.
.