.
NFL Preseason Picks – How to make the best predictions




Preseason NFL Picks: How to bet the preseason
(updated for 2012)

31% ROI with 60% winning seasons in NFL preseason
How to make money betting the NFL preseason
Analyzing coaches, team depth and gameplans
The role of statistics in betting the preseason

Can money be made on NFL preseason picks? Absolutely. I have won 60% of the time (six of ten seasons), with $100 players making $3,115 in profit – a 31% growth in bankroll.
Can handicappers approach the preseason the same way they do in the regular season? Of course not. Should you bet the NFL preseason? That's up to you.
Why is the preseason different? For one, power ratings don't mean a thing. Past season performance doesn't correlate much to preseason performance either. And, there are few if any past games to look at that provide any true predictive value.
That being said, there are some indicators of ATS (against the spread) results in the preseason. In fact, the same issues that make these games more difficult to handicap make them more difficult for lines-makers to peg. Remember, it doesn't take much of an edge – if we can beat 52.4% with our picks, we bank!
In 2002, I went 4-1-1 ATS in the preseason. In 2003, I went 9-6 ATS, in 2004, I went 11-9-1 ATS and in 2005 I was an incredible 20-8 in the "games that don't matter." I took a step back in 2006 going 13-14 but bounced back in a huge way in 2007, going 12-6 for +19.3 units. In 2008, I won again, going 17-12 for +8.0 units. I have produced small losing seasons in 2009-2011. In 2012 but my NFL preseason bankroll remains 31% higher than when we started. Overall, I've hit 56% (144-114) for +31.1 units ($5,357 for $100 players) in the lifetime of my preseason NFL picks.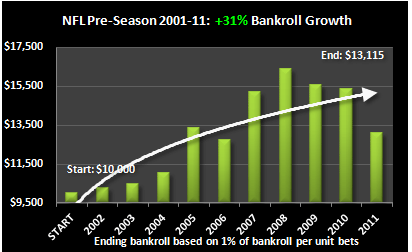 I make my preseason picks by analyzing the following:
Coaches/Philosophy
Do they take the preseason seriously or use it for its intended purpose (to test out players and new schemes)? For example, take a look at the recently retired Bill Parcells. His focus on making every play count, whether in a real game or practice, and his disciplined approach has resulted in his team covering the spread in roughly two thirds of the preseason games he has coached. The retired Marv Levy of Buffalo was just the opposite and was a great "go-against" preseason coach. I track every coach's record and look for signals as to how they approach these games. Keep an eye on Jack Del Rio. In five seasons with Jacksonville, he has gone 17-7 with three 3-1 campaigns, a 4-0 year, and no losing years, indicating he takes the preseason seriously. On the flip side, Andy Reid, has only won 36% of his preseason games in Philly.
Be careful, however, about blindly betting "good" coach vs. "poor" coach. Over the past five years, "good" coaches (50%+ preseason ATS record) were 51% ATS while "poor" coaches (<50% preseason ATS) were 44% ATS. There is a difference, but it isn't huge. Further analysis is required to uncover more predictive trends. For example, put that "poor" coach in a favorite position and he'll cover only about a third of the time. Find another trend or two to combine with that and we have a very good bet.
Finally, what about coaching motivation? For many years, "new" NFL coaches did very well. The theory was that they have more to prove and more to play for than experienced vets who are secure in their jobs. In 2002, the four "new" head coaches went 11-5 (69%) ATS. In the 2003 preseason, the five head coaches who were new to their team went 12-8 (60%) against-the-spread. But in 2004, new head coaches went only 13-15 ATS. In 2005, they bounced back, going 8-3 ATS. But then from 2006 to 2009, new coaches compiled a very lackluster 54-59 ATS mark. I continue to watch this trend every year. I look for new head coaches in certain situations where they have an advantage vs. playing them blindly.
Team Depth
Backups play more than starters and some teams' backups are better than other teams' starters. Look for situations in which starters will be playing against backups. Teams with veteran starters who are not fighting for their job will tend to play these starters very little in the preseason. Look for teams with a couple of good players fighting for the same job. These players will get extra playing time as coaches try to determine the starter. Also look for teams with great backups, especially at quarterback. Some teams' second or third-string quarterbacks could start for other teams. When they get to play against their opponent's second or third-stringers, they'll rack up the yards – and the points.
Game Plan
Coaches often announce their intentions for upcoming games. Sometimes they are looking to give a specific player a lot of playing time and other times they are just looking to get out of there as quickly as possible without any injuries. Sometimes after several weak preseason performances, coaches challenge their teams to show something before the regular season starts and meaningless game becomes meaningful.
Preseason Historical Systems and Trends
It is true that some simple older popular trends (bet on a team in its second preseason game if its opponent is playing its first) are no longer predictive (this one is <50% over the past six years). However, there remain very good predictive trends/systems for the preseason. For example, dogs of over 7 points do very well, especially when facing a team off a win. I track and apply over 150 preseason situations and trends when making my picks.
Keep these items in mind when handicapping the NFL preseason. I utilize a system that takes all of these variables into account on my preseason picks.
Get Free NFL picks this season…

Click here to see my philosophy for the NFL regular season.
Click here to see my philosophy for the NFL playoffs and Super Bowl.
.