2012 NFL Predictions
Regular Season Team Wins Picks for 2012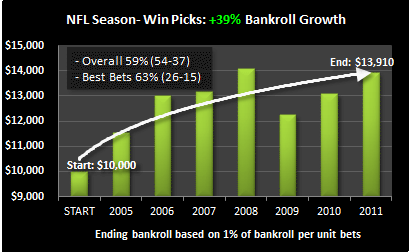 NFL Season Wins Totals
63% winners on Best Bets over seven years (26-15)
Only one losing season out of seven
39% Bankroll growth
The 2012 NFL regular season is nearly upon us. The excitement is building. We will be hitting the NFL preseason hard (67% winning NFL pre-seasons), but before that, it's time to take advantage of the the NFL Season Wins bets.
Every year I predict NFL season performance (regular season win totals). Based on the performance (63% on Best Bets with only one losing season out of seven), this is becoming one of the must-haves for serious NFL bettors. While most people don't pay attention to these bets, make no mistake - this is one of the best NFL betting opportunities available!
NFL Team Wins Totals - A great opportunity
Why are betting NFL season win totals such a great opportunity? Primarily because so few people put in the time and effort to make these types of NFL picks. Of the few that do put in time on these predictions, I believe that no one looks at them as scientifically as I do. Simply put, no one puts in the effort I do in predicting season win totals and the results bear this out.
For these reasons, I have hit 64% on by Best Bets and 60% overall on my season win totals picks the past seven years:
On my highest-rated picks (3-5 unit), I am 26-15 and I have 11 of these this season.