March Madness Point Spread - March 17, 2012
The Madness rolls on and we are ready for round 3 action with nine more premium CBB picks, including one complimentary selection below.
Last night we hit with Lehigh as a +11.5 point underdog in their improbable win over Duke. We look to keep the magic going with today's eight selections.
Bracket Update: What a day! Seven double-digit seeds won yesterday, and two No. 2 seeds went down - for the first time in tournament history. Despite the crazy day, our completed bracket remains solid, finishing the round at 22-10.
It's 50/50 Madness Time with TopBet!
Open a new account with TopBet through us and receive a 50% sign-up bonus as well as a complimentary $50 Sweet 16 bet. Get your 50/50 here now!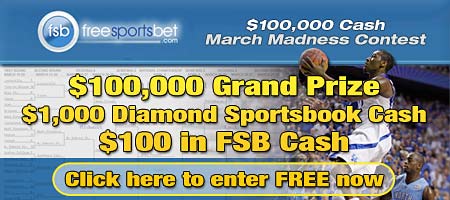 Today's Picks:

Game: Kansas State vs. Syracuse (12:15 PM Eastern)
Pick: Kansas State +5 (-110)

The tournament is getting interesting with a pair of No. 15 seed upsets yesterday, and this Syracuse team was on the ropes in their first game to a No. 16 seed. Syracuse looks to me like a team that peaked too early in the season. Since their big 18-point win vs. Connecticut all the way back on February 11th, Syracuse has not been able to put anyone away and has been on the ropes quite frequently. This is a team that recorded 16 wins by 10 or more points up to that date, but have since not beaten anyone by more than 10 points. Kansas State may have 10 losses, but this is a team that beat Missouri twice, beat Baylor, and also lost to Baylor by a single point, knocked off Alabama, and Virginia Tech, and lost to Iowa St by 2 and 4 points. The bottom line here is that they are in almost every game against top level competition, and I expect no different today. Play on Kansas State.




Results: 9-7

NCAA Basketball Picks Resources:
Check out the last five NCAA Basketball Picks Newsletters:
Horse-Racing-Picks-March-16-2012
AQUEDUCT Race #2 at 1:20 PM EasternTop pick: #4 (STAY COMPOSED) - The probable favorite, she's been stopping badly when facing much tougher. Daughter of "Bernstein" has the best early speed of this gr...
Horse-Racing-Picks-March-16-2012
SANTA ANITA Race #3 at 2:00 PM PacificTop pick: #1 (FORDHAM ROAD) - The probable favorite, 5-year-old has finished second in his last two starts, both coming on this course at this level and distance....
NCAA-Basketball-Picks-March-12-2012
...
Horse-Racing-Picks-March-15-2012
SANTA ANITA Race #1 at 1:00 PM PacificTop pick: #5 (EQUITANA) - Brazilian-bred has been freshened-up for almost two months by trainer A.C. Avila after she ran "rank" and tired badly after establishing...
Horse-Racing-Picks-March-15-2012
TAMPA BAY DOWNS Race #3 at 1:25 PM EasternTop pick: #1 (WOKEUPONHOMEPLATE) - Gelding by "Grand Slam" ran a career best when he was beaten by a neck here at this price going 6.5 furlongs March 1st. Has...