Free Basketball Picks - March 12, 2012
Let's dance! It's finally here - the 2012 NCAA Tournament and we are more than ready to go dancing.
We picked the winner two years in a row in 2008 and 2009. Last year we had 1/2 of the Final Four right (Kansas and Ohio State). In 2010 we went 28-4 in first round and last year 26-6 in first round picks! So that's 54-10 L2 years combined in initial round.
Take a look back at my completed NCAA Tournament Brackets for the last several years:
2011 Completed NCAA Tournament Bracket
2010 Completed NCAA Tournament Bracket
2009 Completed NCAA Tournament Bracket
2008 Completed NCAA Tournament Bracket
My 2012 Completed Tournament Bracket is ready now. Order my completed 2012 NCAA Tournament Bracket here for $15.
For my best daily premium college hoops picks, get on board with my March Madness package here for just $149. This package provides all of my daily premium picks through not only the NCAA Tournament, but the NIT and CIT as well!
We will be releasing our first round of the NIT and CIT premium picks tomorrow, with the first round of March Madness picks going out on Thursday.
For all things "Bracketology," including on how to fill out your own bracket, see the Dog Pound below.
It's 50/50 Madness Time with TopBet!
Open a new account with TopBet through us and receive a 50% sign-up bonus as well as a complimentary $50 Sweet 16 bet. Get your 50/50 here now!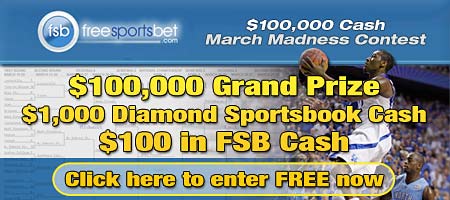 Today's Picks:


Results: 2-1

NCAA Basketball Picks Resources:
Check out the last five NCAA Basketball Picks Newsletters:
Horse-Racing-Picks-March-11-2012
SANTA ANITA Race #2 at 1:00 PM PacificTop pick: #5 (HUSKY GLORY) - Colt raced evenly last out at this tag in his first start ever around two-turns. Bred to like it long, this son of "Johannesburg" has...
Horse-Racing-Picks-March-11-2012
AQUEDUCT Race #2 at 1:20 PM EasternTop pick: #7 (SOLID D'ORO) - He was scratched earlier in the meet, looking for the right spot and this appears to be it. He was competitive in a pair at the Fair gro...
Horse-Racing-Picks-March-10-2012
AQUEDUCT Race #4 (THE CICADA S. (G3)) at 2:20 PM EasternTop pick: #2 (AGAVE KISS) - Undefeated filly has been untested on the front end in her trio of wire-to-wire wins. Daughter of "Lion Heart" looks...
Horse-Racing-Picks-March-10-2012
SANTA ANITA Race #1 at 12:30 PM PacificTop pick: #5 (COOK INLET) - Gelding drops into a claimer for the first time and trainer John Sadler will also stretch him out in distance and move him from the t...
Horse-Racing-Picks-March-09-2012
SANTA ANITA Race #2 at 1:30 PM PacificTop pick: #3 (WARREN'S JAZZ WALK) - Improving home-bred filly has finished 2nd in two of her three starts since returning from a 9 month layoff in late December. ...