Final Four Bracket - March 10, 2012
We finished 7-6 in college hoops yesterday and are ready for today's Conference Finals action with seven more premium picks.
Don't forget that you can get on with all of our daily premium CBB picks all the way through the end of the Finals for just $149 here. Also keep in mind that since tomorrow is Selection Sunday, we will have our completed NCAA Tournament Bracket ready for all of your office pools by the begining of next week. Pre-order it here for $15, and have it in your hands as soon as it is released!
Today we also have a pair of premium NHL picks to go with three more NBA plays - get them all here.
It's 50/50 Madness Time with TopBet!
Open a new account with TopBet through us and receive a 50% sign-up bonus as well as a complimentary $50 Sweet 16 bet. Get your 50/50 here now!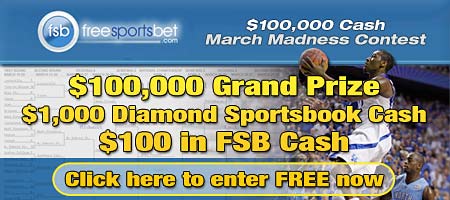 Today's Picks:

Game: North Carolina State vs. North Carolina (1:00 PM Eastern)
Pick: Game Total UNDER 150 -110

North Carolina State may have taken themselves off the bubble with a big win vs. Virginia to earn a spot in the ACC semifinals vs. Carolina. The Wolfpack has 22 wins, but could do themselves some good by playing the Heels tough. They were hammered at home by the Heels and again on the road. But the rematch made them realize that if they don't slow this team down, they are in for a long night, so expect the same pace that saw 129 total points scored. Carolina has also been slowed down vs. winning teams, leading to a 47-28 UNDER mark in their last 75 facing them. Play the UNDER.




Results: 5-7

NCAA Basketball Picks Resources:
Check out the last five NCAA Basketball Picks Newsletters:
Horse-Racing-Picks-March-09-2012
SANTA ANITA Race #2 at 1:30 PM PacificTop pick: #3 (WARREN'S JAZZ WALK) - Improving home-bred filly has finished 2nd in two of her three starts since returning from a 9 month layoff in late December. ...
Horse-Racing-Picks-March-09-2012
AQUEDUCT Race #2 at 1:20 PM EasternTop pick: #5 (ROAD TO LOVE) - He's spent his first three starts racing in Louisiana facing "open" maidens and will face fellow New York-breds for the first time. Las...
Horse-Racing-Picks-March-08-2012
AQUEDUCT Race #2 at 1:20 PM EasternTop pick: #3 (SAY MR. SANDMAN) - Gelding ran well here at this level and distance on Feb. 15 when he finished fourth of eight and had a very wide trip. Race was his ...
Horse-Racing-Picks-March-08-2012
SANTA ANITA Race #1 at 1:00 PM PacificTop pick: #2 (FLUXX) - Filly has been competitive facing tougher on both turf and "poly" and has some changes today as she runs for the first time in just under t...
Horse-Racing-Picks-March-07-2012
AQUEDUCT Race #2 at 1:20 PM EasternTop pick: #6 (BLACK AND WHITE) - Gulfstream shipper finished 2nd there facing fellow Florida-breds on Dec 10th, then was off slowly from an inside post a month ago f...