Basketball Gambling Pick - May 19, 2012
I tip-off the WNBA season with two premium picks today, including a complimentary selection below.
Following a conservative money management system of risking 1% of bankroll per unit, Wunderdog WNBA subscribers have turned a $10,000 bankroll into $17,435 - a 74% ROI in 2009 through 2011. That's three consecutive winning seasons on the WNBA floor! Please see graph below.
Get on board with my WNBA season package for $399 here. Please keep in mind that this Early Bird Special expires tomorrow.
We won again in the NBA Playoffs last night and I'm ready with another pair of premium NBA picks to go with one NHL Playoffs pick. In NHL, we are 3-1 (75%) over the last week for +$460 for $100 players.
I also have five premium MLB picks ready to go.
Get on board with all of today's premium selections here.
The Preakness Stakes runs today! Get our premium racing picks for just $25, or get the remaining two legs of the Triple Crown for just $35 here.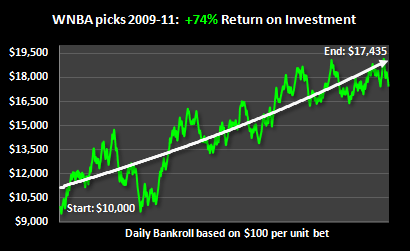 WUNDERDOG 2012 RECENT RESULTS ($100/bet)
SPORT
WINS-LOSSES
%
NET
NBA
44-33 last 77 picks
57%
+$1640
NHL
236-193 last 429 picks
55%
+$4240
WNBA
97-82 last season
54%
+$760
TOTAL
+$6640

Today's Picks:

Game: Atlanta at Indiana (7:00 PM Eastern)
Pick: Indiana -6.5 (-110)

The WNBA is underway and the Indiana Fever will host the Atlanta Dream to tipoff their 2012 season, filled with expectations. The Fever needed some help in the post and Sash Goodlett at 6'5" 240 lbs. should provide that off the campus of Georgia Tech. Indiana has not only been a tough home team over the last several years, they have been tough period. They have finished on top, or no more than one game out in the Eastern Conference over the past three seasons, and have put together an 88-31 mark at home over the last seven years. Atlanta is the new kid on the block in the WNBA, as they have been part of it for just three years, and have struggled on the road at 27-41. The Fever should make good on their 13-5 ATS mark in their last 18 at home, especially with the adrenalin of the season opener. Play on Indiana.




Results: 7-5

WNBA Basketball Picks Resources:
Check out the last five WNBA Basketball Picks Newsletters:
Horse-Racing-Picks-May-18-2012
BETFAIR HOLLYWOOD PARK Race #1 at 7:05 PM PacificTop pick: #6 (NIGHT WIND) - The probable favorite, he was only beaten three lengths in his debut after having a poor start, then set a fast, pressured ...
Horse-Racing-Picks-May-18-2012
PIMLICO Race #8 (THE MISS PREAKNESS STAKES) at 3:40 PM EasternTop pick: #4 (MILLIONREASONSWHY) - Lightly-raced daughter of "Grand Slam" has run well in all her starts (5-3-1-1) and was talented enough...
Horse-Racing-Picks-May-17-2012
BELMONT PARK Race #2 at 1:20 PM EasternTop pick: #8 (LAST MINUTE ROSE) - The probable favorite, filly has finished second in two straight and drops dow just a bit to a new low in price. Daughter of "F...
Horse-Racing-Picks-May-17-2012
BETFAIR HOLLYWOOD PARK Race #1 at 1:00 PM PacificTop pick: #5 (LAST EQUITY) - Comes from the same owner (Reddam Racing) as this year's Kentucky Derby (G1) willer "I'll Have Another". Colt has been pre...
Horse-Racing-Picks-May-16-2012
PRESQUE ISLE DOWNS Race #3 at 3:15 PM PacificTop pick: #4 (MERCY LOU) - Speedy filly has been competitive in three of her four starts with the lone sub-par effort coming in a sprint stakes at Tampa Ba...